In order for your package to get to its destination safely, it's important that you use the appropriate packaging and labeling. Here are some packaging and labeling tips to help ensure that your shipment gets where it needs to go.
Packaging Tips
Use a new box
While reusing is an important way to reduce our environmental impact, it may not be the best choice for your package. An old box may be weak and could easily break in transit. If you do reuse a box, ensure that any old labels or barcodes are removed to ensure no confusion with the shipping carrier.
Invest in quality packaging
Try to refrain from wrapping your packages with paper. While craft paper has a crisp clean look, it can easily tear, which could result in your label and/or postage coming off and your package getting lost. Invest in proper packaging like boxes or craft bubble mailers from our supplies store, or another shipping supply company, to achieve a professional look and prevent any items from losing its way.
Protect your delicate items with bubble wrap
This is probably the most obvious of our packaging tips, but make sure your shipment will survive the journey! Your package may have a bumpy ride so make sure it is well protected. We recommend wrapping your item(s) in bubble wrap prior to packing in the box. The recommended padding is 2+ inches between the item and the outer wall of the package.
Use packing tape to seal your packages
Masking tape and transparent adhesive tape (like Scotch tape) are typically not strong enough to withstand the shipping process. It is a good idea to reinforce all the seams of your package for extra durability. When taping your packaging, ensure that the barcode is not taped over as the tape can affect the scanning of the package for any tracking updates.
Use the right size of box
Try to find a box or envelope that not only fits your item well but provides enough padding (2+inches). This protects your package from any impacts sustained.
Carriers charge postage based on dimensions and weight, so package items as small as possible and minimize empty space in your packaging. You will also want to know the exact weight and dimensions of your package to prevent any postage adjustments or packages.
A bubble mailer can be a good option instead of a box. You can reduce costs if your items can be safely shipped in this packaging.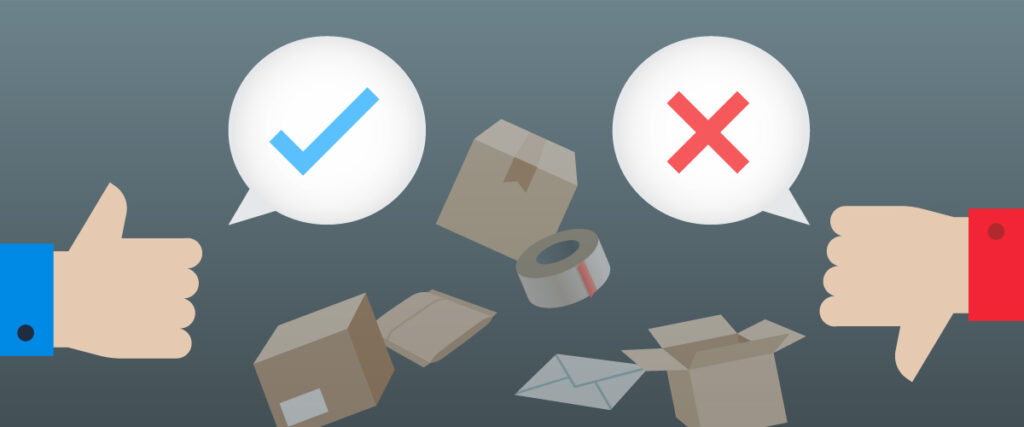 Use the correct type of packaging for your shipment.
If you purchase branded packaging, be careful to use it with the correct carrier and postage. USPS branded packaging can only be used with USPS postage. You cannot use USPS packaging if you ship using UPS MI or Asendia. Make sure to select the correct USPS flat rate postage when shipping in a USPS flat rate envelope or box.
Labeling Tips
Make sure your labels are readable
Carriers process your packages using the unique barcode on your shipping label. Therefore it's important that your postage label is legible. Carrier scanning systems may not be able to read crinkled or faded postage labels
Don't cover the bar code with tape. This can cause the ink to fade and impact scanning. Place the shipping label with the recipient's full address on the most visible side of the package away from any folds or seams.
Make sure the address is correct and formatted correctly
Verify your shipping address is not missing any vital information, such as the unit or apartment number.
Most shipping carriers provide guidelines with address formats and we recommend researching these guidelines. For example, USPS offers guidelines for international addresses here. Chit Chats has its own guide for international shipments if you want to learn more.
Invest in a thermal label maker
It may seem more economical to print out your labels and then tape them to your package but you may be surprised to find that isn't the case. If you want to step up your shipping game, a great packaging tip is to buy or use a thermal label printer.
Thermal label makers do not require ink and are self sticking so you actually end up saving money on printer ink and tape! The labels also make your packaging look more professional. If you do print out your own labels, make sure to tape the labels fully with packing tape, otherwise loose edges can get stuck in the sorting machines and rip off.
Make your packaging and products more appealing
The packaging and labeling tips above are the essential ones, but once you have those down, there's a few others you can try to make your customers even more happy with your product.
Include the return details with your shipment
If you have a return policy, include these details with your package. This shows your customers that you are taking their time into consideration and want their experience to be a good one!
Add a little something extra
Including a simple thank you note to your customers is a simple, yet effective way to add a special touch to their shopping experience. You can also take the idea one step further and add a special offer or coupon. This is a great way to encourage repeat business. People love to save money and tend to spend more if they are getting a good deal.
Presentation is key
Your goal is to enhance your customer's overall experience with your product and develop your brand. Keep your packaging consistent and try to come up with something that sets you apart. For example, use tissue and ribbon to neatly wrap your product (inside the box of course). Then customers feel as though they are unwrapping a gift! Shopping has now evolved into customers interacting with products. If you make their experience a memorable one they will keep coming back!
Have some packaging and labeling tips of your own? Let us know!
Resources
Start saving with Chit Chats today
No hidden monthly fees. Unbeatable prices. Over 20 million parcels delivered.