Issues with addresses can cause delays and undeliverable shipments returned to sender. Making sure to use the proper address format for the shipment's destination is the best way to prevent issues. Remember, it is the shipper's responsibility to ensure the address entered is complete and correct.
Find guidelines for formatting Canadian and U.S. addresses here.
Know the formatting rules
As international shipments are often delivered by the destination country's postal authority, you may expect to see differences in address formats. There may be small differences between each country, so be sure to do your research.
Check the address format for any member country with the Universal Postal Union's guide on postal addressing systems.

Under the section: Postal Addressing Systems (PAS) > Postal addressing systems in member countries > Select country from drop-down menu. > Click download (will open in new tab)

Make sure that no key information is omitted for example, zip/postal code, unit or apartment number, floor or suite number, etc.
Avoid including unnecessary details in the address. Maximum character limits vary by carrier, for example address lines must be kept to 30 characters or less for Asendia shipments.
Additionally, the language you provide the address in matters. Our international partner carriers largely operate in English. Moreover, the Chit Chats platform does not support non-Latin or special characters. You should provide the address in English with Latin characters to prevent any issues with your shipment. If you would like to include a secondary address label written in another language, be careful to not cover the postage label.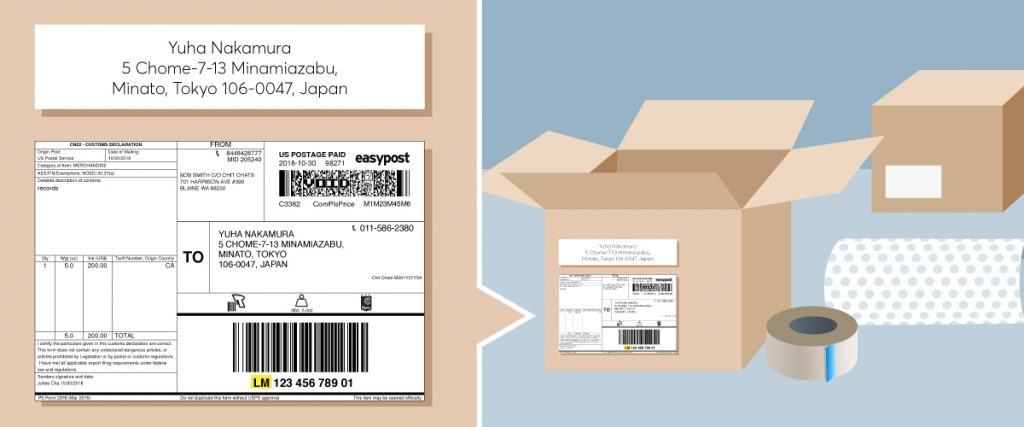 Verify the address
When you create a shipment on the Chit Chats platform, we will attempt to verify the address you've entered. If our system detects a potential issue, you may be presented with a suggested alternate address. With the wide variations in international addresses, this does not always mean that the address entered is invalid. You will always have the option to choose between using the suggested address and the original address you've entered.
Your recipient is the expert on their address and may be able to advise on the addressing format in their country.
It is best practice to check with your recipient before accepting the auto-verified address.

CHIT CHATS TIP
Use tools for difficult addresses
Sometimes you may have issues with addresses despite your best efforts to use the correct address formats and confirm with your recipients. It may be the case that the address is invalid or missing critical information. When all else fails, tools like Google Maps may help when checking for address errors. Just make sure to run the address by your recipients one last time!