Update Dec 3, 2021
We are happy to announce that New Zealand has joined the list of countries offered for our Chit Chats International Tracked service. This is welcome news for our clients as access to the country with other international carriers remains limited at this time due to COVID-19.
Get ready to ship your packages to New Zealand with this postage option!
---
Attention international shippers, we have a new postage option that will help take the guesswork out of what service to use! As we gear up for the holiday season, we know that international shipping can be daunting especially as of late with all the EU VAT requirements.
As we continue to navigate this with our partner carriers, we are excited to officially announce our new Chit Chats International Tracked service! Starting Tuesday, October 5, you'll be able to see this new postage option to select destinations.
We've partnered with APC Postal Logistics, an industry leader, that provides efficient cross-border shipping at a competitive price. APC expedites international packages within the U.S. and has partnered with local carriers in the destination country for the final mile delivery to your customer. By tapping into their vast international network the results are quick and reliable. We're excited to launch this after much testing and positive feedback.
Chit Chats International Tracked
Features of this new international postage type include:
Low-cost postage
Full Chit Chats Tracking with delivery confirmation
Fast transit times on average 7-15 estimated business days
Optional Chit Chats Insurance
Smoother delivery with DDP option (IOSS number required)
DDP vs DDU
Depending on the destination country there may be duty or tax which is determined by the declared value of your shipment. Each country has its own set of rules and regulations and taxes for importing. These fees can be paid either by the sender or receiver. This is determined by whether the postage purchased is DDP or DDU. Let's dive into the difference and what each of these means.
DDP Delivered Duty Paid
Seller collects VAT and other import fees, duties and taxes at the time of sale

The IOSS system was designed to facilitate this

Seller must include their IOSS or other customs tax reference number when creating the shipment to indicate that duties have been paid

Without this the recipient may be charged duties a second time

Reduces customers abandoning or forgetting about shipments held at customs leading to smoother and quicker delivery
DDU Delivery Duty Unpaid
Customs or destination's postal operator contacts the recipient to settle fees and release shipment for delivery

Can result in delays and missed customs notices

Postage often appears cheaper but does not include additional fees like duties, import clearance or taxes
If the recipient refuses to pay these fees, the shipment may be returned to sender or destroyed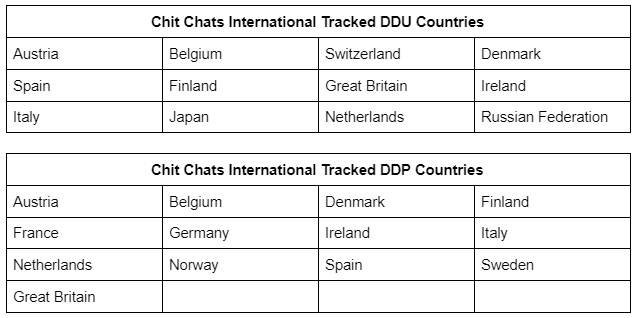 Success Tips for International Shipping
We have seen a trend with stricter enforcement by customs. For example, the recent influx of returned and delayed Ireland shipments. In addition, the new EU requirements are making it more challenging for ecommerce sellers to navigate and can ultimately impact your customer experience and at worst result in undeliverable shipments.
This means the key to successful international shipping will be to ensure that you communicate with your customers and make it transparent for them to understand the differences. Do your research and don't get caught off guard! Check out some of our resources that can help you navigate the ins and outs of international shipping:
It's a good idea to inform your customers at checkout, on your product pages, in any email correspondence, your shipping policy and if you have a FAQ page.

The Chit Chats Team
Accessing Chit Chats International Tracked
Create a Shipment Flow (UI)
For shipments to non-EU countries, once you reach the Postage step, you will either see Chit Chats International Tracked or Asendia depending on the destination country. If you have an IOSS number, postage options for DDP will be displayed.
If you deselect the DDP postage options it will be up to your discretion, just remember that by doing this the shipper accepts responsibility for any duties that they may incur.
Importing Shipments (CSV, Connected Stores, API)
If you import shipments you will need to become familiar with the countries offered under Chit Chats International Tracked and Asendia. Use the appropriate postage_type: chit_chats_international_tracked or asendia_priority_tracked for the destination.
Note: Using the wrong postage_type will cause an import to fail due to the platform being unable to provide a rate.
To access DDP rates for Chit Chats International Tracked, you will also need to:
Include your IOSS number or other customs tax reference number in the vat_reference field
Ensure that the duties_paid_requested field is set to TRUE
To help map out the available options reference this handy table:
Country
Chit Chats
International Tracked DDU
Chit Chats
International Tracked DDP
Asendia International
Priority Tracked
Australia
✔
Austria
✔
✔
Belgium
✔
✔
Denmark
✔
✔
Finland
✔
✔
France
✔
✔
Germany
✔
✔
Great Britain
✔
✔
Hong Kong
✔
Ireland
✔
✔
Israel
✔
Italy
✔
✔
Japan
✔
Netherlands
✔
✔
New Zealand
✔
Norway
✔
Russian Federation
✔
Singapore
✔
South Korea
✔
Spain
✔
✔
Sweden
✔
✔
Switzerland
✔
*Delivery may not be confirmed with Asendia
Don't forget that any shipments destined to the EU must include a recipient phone number. Reference our Help & Support for common errors when importing from a csv or from a connected store. Also please keep in mind that there is no return service for the Chit Chats International Tracked service.