Did you know there is a way you can save even more with Chit Chats? Chit Chats is able to pass on cubic shipping rates from USPS directly to you so you can always save big on small, heavy packages!
What is cubic shipping?
The United States Postal Service (USPS) offers discounted rates for packages up to 20 lbs that fit within fixed cubic dimensions (no more than 0.5 cubic feet in volume). 

Chit Chats offers specially designed USPS Priority Cubic boxes* that meet the specific cubic shipping dimension requirements which takes the guesswork out of cubic shipping.  However, you can still take advantage of these rates using your own packaging.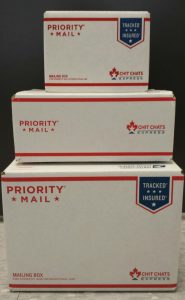 Regardless of what packaging you use, by taking advantage of cubic shipping rates you'll only pay for shipping based on the dimensions of the package and distance, not the actual weight.
You can easily calculate cubic dimensions by measuring your package and using the following formula:
Length x Width x Height inches (rounded down to the nearest 1/4 or 0.25 inch) / 1,728 = cubic feet.
The following criteria must be met:
Package must measure 0.50 cubic foot or less
Package must be 20 lbs or less
The longest dimension may not exceed 18 inches
Soft pack and padded envelopes are calculated differently
Once you determine the cubic volume of your shipment, refer to our 
rate card
 for the corresponding price with reference to the cubic shipping box below: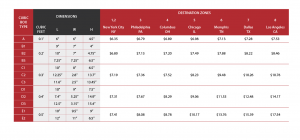 You can also use our handy cubic calculator to determine the cubic box you require.
Input the length, width and height of your package
Select the location (zone) that your package is going to
Reference the cubic shipping chart in our rate card to determine the postage by using the cubic box type and zone
Cubic Calculator for rectangular and non-rectangular parcels

Cubic Calculator for soft pack and padded envelopes

For example, if you wanted to ship a camera (4 lbs) to Los Angeles, CA using regular USPS shipping it would cost around $15.76 USD but if you used one of our Chit Chats cubic shipping boxes, it would cost you only $7.09 USD. That's over 50% in savings. Cubic shipping is a cost-effective option helps you save money.
*Please note that these boxes are only for the purposes of shipping with Chit Chats through USPS Priority Mail. Quantities may vary. Available only in select branches.