As a small business owner, you have a number of options when creating an online store. If you're not a programmer, or can't afford one to start, you'll likely use a website builder like Shopify, Wix, or Squarespace. We're going to compare Shopify vs Wix and Squarespace to see which is the best option for small businesses.
Shopify is built solely to create high quality online stores. Wix and Squarespace, on the other hand, are general website builders with ecommerce tacked on. In a previous post, we identified Wix as as the winner in Wix vs Squarespace, but the platforms are very similar in terms of their ecommerce capabilities. For this reason, we're going to treat them as essentially the same for this comparison.
This Is Part of a Series on Ecommerce Platforms
In this post we will compare Shopify vs Squarespace and Wix for:
Pricing
All three platforms use a subscription model, but for Wix and Squarespace you need to sign up for one of their more advanced plans in order to create a store. If you sign up for an annual plan, Wix will cost you between $20-35 USD/month while Squarespace will cost you between $18-40 USD/month. They also charge a 2.9% transaction fee.
Shopify's basic subscription is $25/month if you sign up for one year. It similarly charges 2.9% for transaction fees.
For their cheapest subscription model, both Wix and Squarespace beat Shopify for price. If we factor in the free domain (which start at $11/year for Shopify) their second tier subscriptions are essentially the same or slightly cheaper. Next, let's look at what you get for those prices.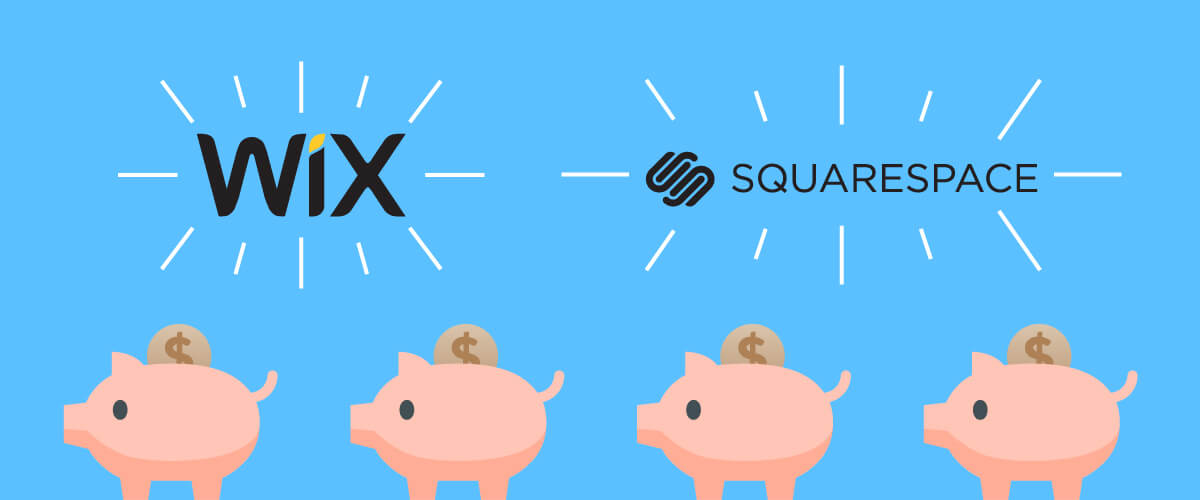 Which Has the Lowest Cost?
Wix and Squarespace's default ecommerce plans are cheaper than Shopify.
Design and Customization
A great online store should not only work well, it should look good. Shopify, Wix, and Squarespace all allow you to create a beautiful website even if you don't have design experience. Their themes and templates allow you to add in your own content so you'll have a great looking website up and running in no time.
Basic Customization
Which platform is the best when it comes to design and customization depends on the level of customization you want to achieve. If you have not built a website before, Wix and Squarespace are probably the easiest options for you to get started. Both Wix and Squarespace offer amazing looking templates that allows you to edit content on the page. Wix also has a drag and drop editor that gives you even more control over the visuals.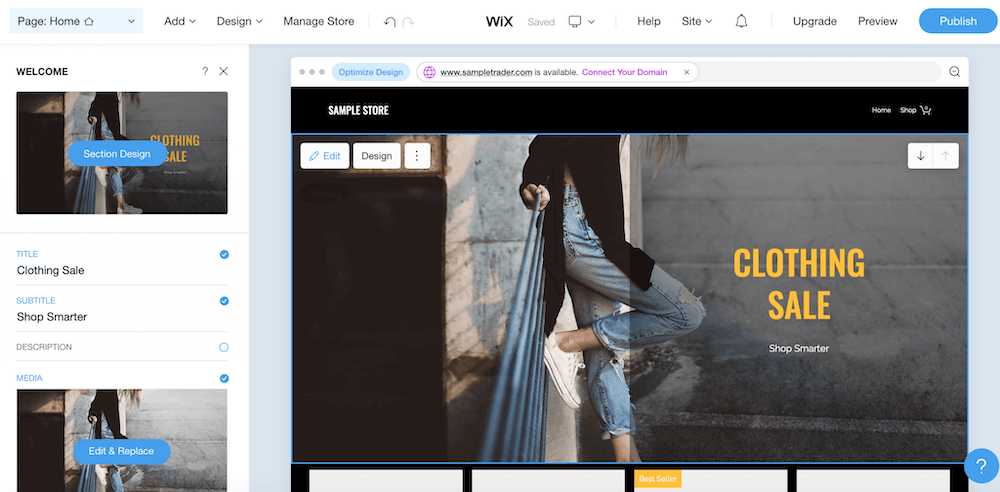 Shopify's theme editor, is similar to Squarespace and Wix's template editors, but is slightly less intuitive. You'll notice from the screenshot below that you can't click on a section of page to edit it, but instead have to find the control in the sidebar. It's still very easy to use but is not quite as intuitive as the other two.
Advanced Customization
Where Shopify has the advantage is if you want to go to a higher degree of customization. Let's say you don't like any of the 72 themes on offer in the Shopify theme store. If you are able to get the support of a developer, you can create your own and customize it to look however you like. You also have more control over the appearance and functionality of the tools that are added to your site through apps.
Wix has its own (extremely unfortunately named) Corvid development platform, as does Squarespace, but neither measure up to Shopify's at the moment. Shopify also has a strong developer community, so if you want to create a truly unique store, or just improve your current one, you'll have no problem finding someone to help you do it. It's also easy for developers to create new theme settings so you can control custom aspects of your store by yourself.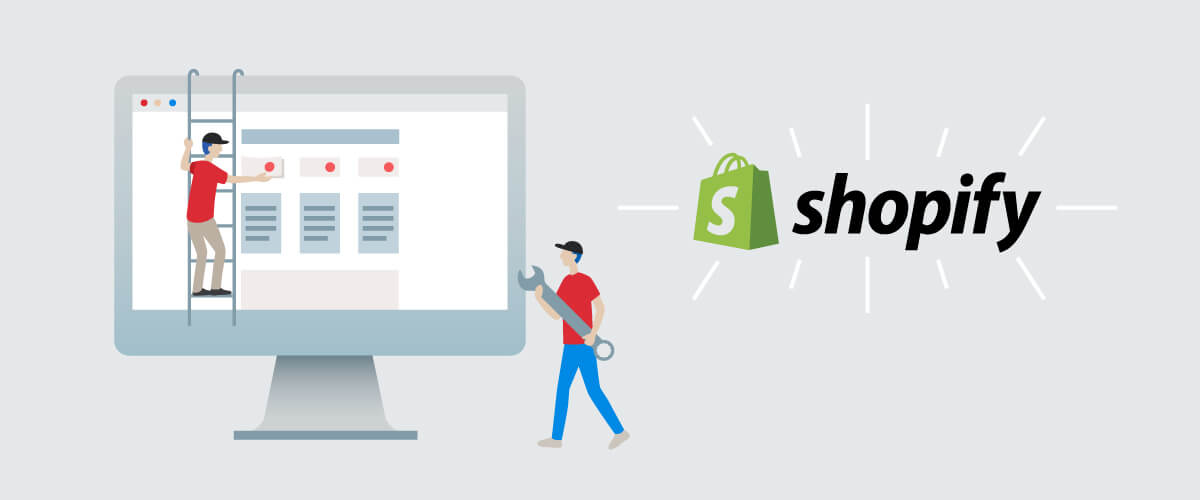 Which Is Most Customizable?
While Wix and Squarespace are easier to get started with, Shopify offers the greatest range in design customization.
Ecommerce Tools
In general, you get what you pay for. Shopify is more expensive than Wix or Squarespace, but you get a lot for that extra cost.
Basic Ecommerce Tools
On top of the handy options that all three provide (such as POS and abandoned cart recovery), Shopify offers up to a 31% discount on shipping with Canada Post, the ability to buy and print shipping labels, and the option to sell on multiple sales channels including Facebook, Amazon, and Instagram. And it does all of this out of the box for your basic subscription.
The one area where Shopify is weaker out of the box is in product type variants. Each product can have up to three product options (size, color, and style for instance), but that's it. Wix and Squarespace can have as many product options as you want. For most users, however, this isn't a major issue.
The App Store
If you need additional features for your store, you can install free or paid apps to help your business. Shopify's app store beats Wix and Squarespace's ecommerce apps and integrations out of the park.
As of 2018 there were more than 2,400 apps available on Shopify's app store, compared to Wix's 250+. Only 40 of Wix's apps are related to ecommerce. Squarespace's integration and app options are even more limited.
This library of store options means that you should be able to find an app to meet almost any business need that you might encounter. Want to offer a "No-contact" delivery option to make delivery safer? There's an app for that. Want to integrate your accounting software with your store? There's an app for that. Need to improve your customer retention? There's over 200 apps for that!
While some of these apps are free many require a monthly fee, so we wouldn't recommend installing a huge amount of them. However, if you need the tool for your business, it's probably worth the cost.
Shopify's purpose is to help people build online stores. That's what it does, and it does it very well. When it comes to any business needs you might have, Shopify is the clear victor.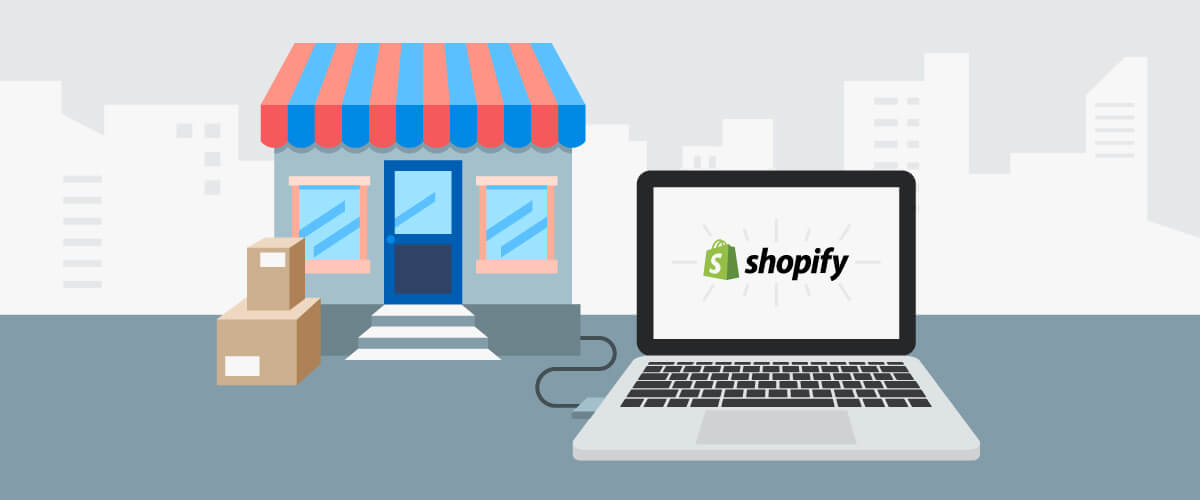 Which Has the Best Ecommerce Tools?
Shopify's basic functionality and extensive app store means it can meet almost any business requirement you have.
Support
All three platforms offer 24/7 support by some combination of email, support ticket, or online chat. Their online help centers are effective resources for troubleshooting any issues you might run into. Shopify has a reputation of excellent customer support, but we couldn't find a clear advantage over Wix and Squarespace.
Which Is the ECommerce Victor?
In conclusion, Shopify is a platform that has been built exclusively for ecommerce. While it's more expensive than Wix or Squarespace, it provides an amazing product for that price. It provides far more ecommerce features through its platform and apps than the other two. It allows for a much higher degree of customization, while also providing great customer support and an easy-to-use interface. Shopify is our clear winner.
Now that doesn't mean that Wix or Squarespace are not a good fit for your small business. If you're only selling a few items, and your business requirements are relatively simple, the cheaper subscription fees might be more important to you. Also, if you want a stylish brochure-type website that just happens to have a small store, then Wix or Squarespace might be your best option.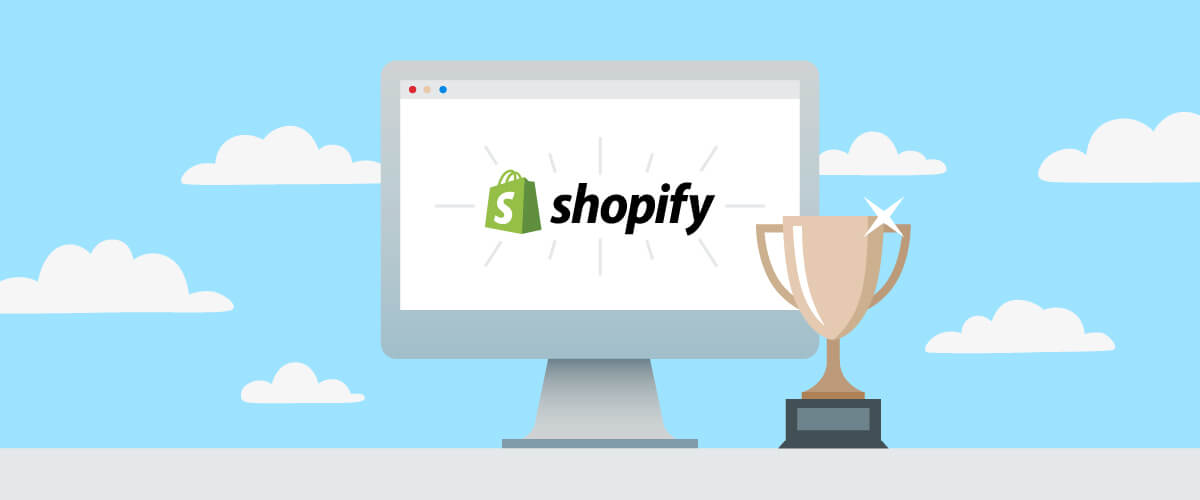 Shopify vs Wix and Squarespace: Which Is the Best?
Shopify will provide the better experience for most small business owners.
Start saving with Chit Chats today
No hidden monthly fees. Unbeatable prices. 20 million parcels delivered.