In 2004, dissatisfied with the e-commerce platforms that were out there, Tobi Lütke created his own online store in order to sell snowboards in Ottawa, Canada. Shortly afterwards, he turned his code into the platform now known as Shopify. Since then it has grown into one of the most popular and reliable e-commerce platforms. Here are our tips and best practices for setting up your online small business with Shopify.
Want to learn more about e-commerce?
Choose the right Shopify plan
Shopify allows users to build a customizable store that can take payments both online and in person (POS). In return, Shopify takes a small percentage cut of the purchase on top of a flat monthly fee. The more advanced the plan, the less of a cut Shopify takes and the greater the discount they offer on shipping.
Shopify subscription costs can add up fast, so knowing your volume of sales is important. If you only do a few sales, it's best to stick to the cheaper plans as the monthly subscription is going to be your biggest cost. As your business grows, however, the percentage cut is going to be what eats into your bottom line the most. When that happens, it makes sense to switch to the more expensive plan.
Have great pictures
If you're starting out, you may be worried about the design of your store. Your design is set by your Shopify theme. There's a default theme installed called Debut, but you can choose from over 70 in the themes store, both free and paid. Many of them are easily customizable.
The great thing about Shopify is that all these themes are designed to look great out of the box. The thing they're missing is your content. Specifically they're designed to look great with high quality pictures. So one of the most important Shopify tips is to take great pictures of your products!
Having high resolution images makes your site look great and makes it more likely that visitors will buy your products. Having great photography is vital to success with a Shopify store.
Use additional sales channels and POS
Shopify does more than just allow you to create an online store. It also allows to sell across multiple channels.
If you already have a brick and mortar store, you can replace your existing POS with Shopify's system. This can simplify inventory by having both your online and real world sales go through the same platform.
On top of this, you can integrate with several other online sales channels including Facebook and Instagram and Amazon. Allowing your customers to purchase on the social media platforms where they find your products reduces the steps they need to take to purchase them. The Amazon integration allows you to publish your Shopify products to the Amazon store so you can take advantage of people searching there.
Pay attention to Shopify's analytics
Shopify plans also give you access to reporting analytics. With so many sales being online it's important to know where your customers are coming from and who's buying. You can view these reports by clicking on the "Analytics" menu item in the sidebar.

Shopify will identify which of your products that are converting well, trending upward, or getting abandoned in the cart. You can also see traffic sources, conversion rates, profit margins, and much more. Use these tools to help improve your store by finding the problem areas and the parts that work well.
We'd recommend focusing on reducing the number of customers that abandon their cart before completing checkout. Often this can be because of high shipping costs or unforeseen fees.
Use the right apps for you
Shopify has amazing built-in features, but you may require more tools to meet your business needs. That's why there's the Shopify app store, which has thousands of apps that you can use to do anything from improving your site's SEO to printing labels. Many are free while others require a monthly subscription.
There's a lot of Shopify tips out there for what apps to install. While apps are extremely useful, we'd recommend only installing the ones you really need for your business, as the subscription fees can add up and eat into your bottom line. We'd recommend doing your research before hand to see if the app meets your needs and whether there's a free (or cheaper) competitor out there.
Integrate with other services
One of the great powers that apps can give you is the ability to integrate with other services, especially those involving shipping and fulfillment.
The ShipStation app allows you to integrate your Shopify store with their service, allowing you to easily import orders and print shipping labels. If you want to use Amazon fulfillment to handle your shipping, it's already built into Shopify! You might also be interested in using drop shipping to handle your shipping and fulfillment. For small businesses interested in going this route, Shopify recommends the Orbelo app.
Finally, if you want to save on money shipping to the U.S., Chit Chats allows you to integrate your Shopify store with our service. This way you can easily import orders from Shopify and create shipments in our system.
Market on Social and SEO
One of the most important things you need to do is drive traffic to your store. If your site doesn't have visitors, you can't sell anything. There are two ways to go: paid advertising and creating free organic traffic.
The paid advertising route is straightforward. You can use the built in Marketing section of Shopify and an app to integrate your store with channel you want to advertise in (Google or Facebook for example). Then you can create and run marketing campaigns from within your store through the dashboard.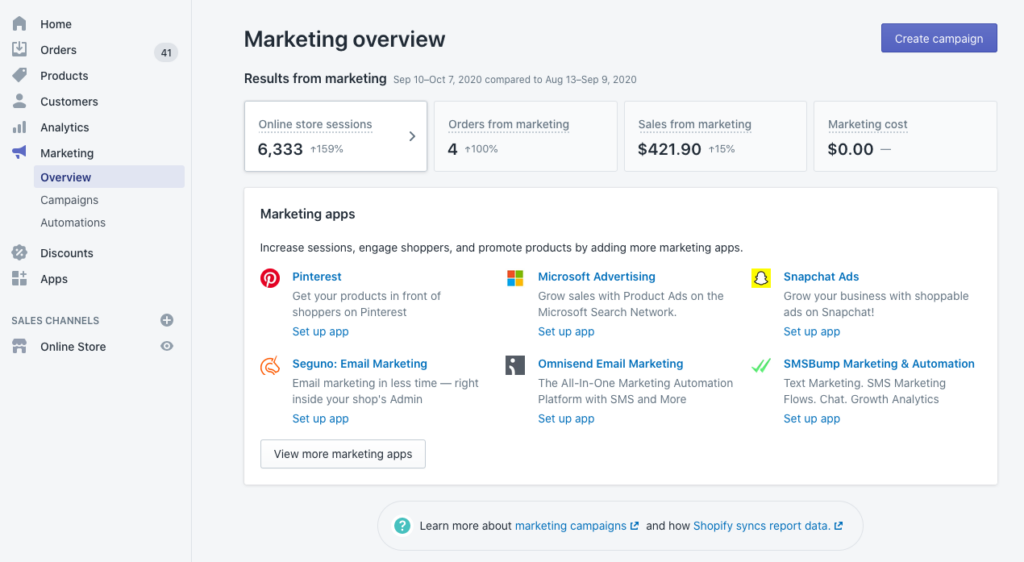 If you have more time than money, however, you're probably going to be trying to drive organic traffic to your site. That means you want to have an social media strategy. You also want to make sure that your site is SEO friendly. One of the easiest ways to improve your SEO is to start a small business blog. This allows you to rank well for online searches related to your products and will bring people to your site.
Conclusion
We hope you found the above tips helpful! Have any Shopify tips of your own? Let us know.
Start saving with Chit Chats today
No hidden monthly fees. Unbeatable prices. 20 million parcels delivered.