Did you know that 72% of Canadian shoppers will abandon an online shopping cart? This means that on average, three out of four shoppers choose to leave without completing their purchase. So how do you decrease online shopping cart abandonment for your business?
The Main Reason: Shipping Costs
Reasons for cart abandonment include slow websites, the site not working on mobile, not enough payment methods, or the return policy. Yet, the top reason for cart abandonment is high shipping costs. Because let's face it, no one wants to pay more for shipping than they did for the item they ordered.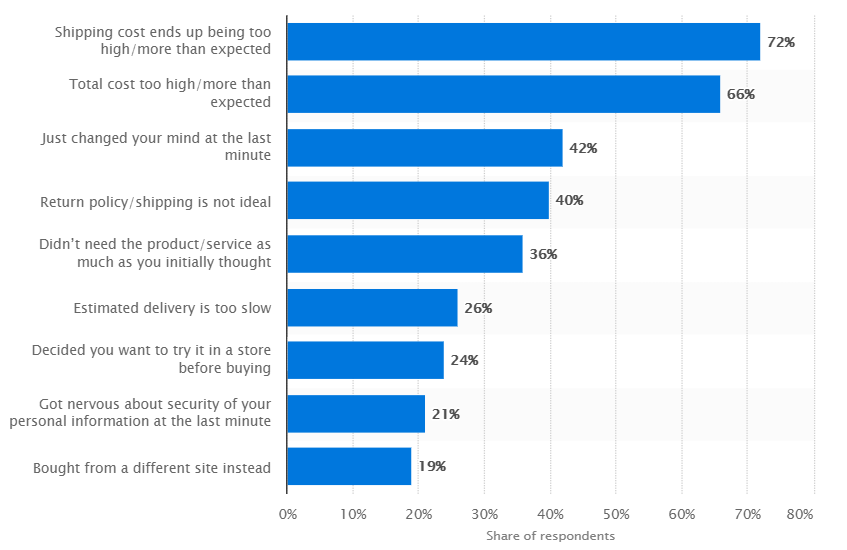 We know the pains of not being able to offer free or low-cost shipping as a Canadian entrepreneur. That's why Chit Chats is the number one shipping alternative for Canadian sellers. Our low-cost, fully tracked shipping options help save you money so that you can grow your business and expand into marketplaces outside of Canada.
So how do you turn those cheaper shipping costs into more checkouts?
1. Manage customer expectations
We know customers want their items as soon as possible but it's always important to manage your customer expectations.
It is good practice to clearly state your store policies including shipping times, tracking, refunds and exchanges.
Mistakes can happen and there can be unexpected shipping delays. Given that most shipping carriers don't offer a guaranteed delivery date, provide estimated time frames versus firm delivery dates.
Always verify the shipping address with your customer to prevent any delays or bad experiences with nondelivery.
If the customers know their costs upfront, they're far less likely to abandon their shopping carts.
2. Offer free shipping
Offers of free shipping have been known to entice shoppers to buy. Review what your shipping threshold is by taking into account your product margins and actual shipping costs.
Offer free shipping with a minimum order or on select items
Run a promotional free shipping offer during certain time periods or to select locations
Work your shipping fees into your product prices
Research your competitors
As an online seller, it's good practice to continuously review your customer's shopping journey. By reviewing customer touch points it will help enhance your customer's experience and decrease online shopping cart abandonment.
Start saving with Chit Chats today
No hidden monthly fees. Unbeatable prices. Over 20 million parcels delivered.