The holidays have a funny way of sneaking up on us. Before we know it, there are more people to shop for than we have days left in the year! With the added pressure of delayed shipping due to COVID-19 restrictions and the tendency to put things off until the last minute, we want to help you manage your customers' expectations with this year's holiday shipping deadlines.
Once again, we expect shipment volumes to increase tremendously between Black Friday and the week leading up to December 25 possibly resulting in delays for our partner carriers. Other factors to consider include the postage option you select, the destination of your package, the potential for winter storms, the continued impacts of COVID-19 measures and transportation availability.
During this busy period where you can expect longer shipping times, we encourage you to start your holiday sales early this year. We also suggest adding enough time to your purchase by date to account for any processing times. This will help ensure that both you and your customers can count down the days of this magical season in bliss, rather than distress.
As always, delivery times are estimates and are not guarantees. It's a good idea to ensure you have deadlines in place and that you communicate them to your customers often. A few touchpoints to share deadlines include your shipping policy, product pages and upon checkout. For more holiday preparation tips, please see our other holiday blog posts.
Holiday Cut-Off Dates 2021
We base our recommended cut-offs on the dates our partner carries set at the beginning of the holiday season. These dates are not guaranteed. The United States Postal Service predicts the busiest time will start two weeks before Christmas. However, we strongly encourage you to send your shipments even earlier than the cut-offs wherever possible.
From what we've seen throughout the year, the popularity of online shopping held strong, with a few lasting delays with shipping carriers. So as we gear up for the busiest time ahead, we also anticipate delays and want to share our recommended holiday shipping deadlines to help you prepare.
Key Things To Note
Shipping deadlines are estimates for delivery before December 25 but many carriers have removed their service guarantees. Be sure to make it clear to your customers that these are estimated delivery times and that delays are expected. We recommend communicating earlier holiday deadlines to your customers.
Don't forget that packages first need to be received at a Chit Chats branch! Be sure to factor in transit and processing times for drop spots, Canpar courier pickups or mail-in shipments.
Upcoming Carrier Deadlines
Add additional processing time based on your region. Cut-offs and delivery times for the non-contiguous states (Alaska and Hawaii) vary and may be affected by the limited availability of transportation with USPS. Read the USPS' National Releases for more details.
Recent inclement weather resulting in flooding and mudslides in BC. have caused transportation delays for the whole of Western Canada. As such, the damage to major roadways is likely to alter delivery expectations and service guarantees from our partner carriers. You can read more about this on our Service Update blog post.
Canadian Addresses
Dec 17 – Regional
Dec 21 – Local
US Addresses
Dec 16 – Chit Chats U.S. Economy Tracked
Dec 18 – Chit Chats U.S. Tracked, USPS First Class Mail
Dec 20 – USPS Priority Mail
US APO/FPO/DPO Addresses
Dec 16 – USPS Priority Mail Express*
Find more information on shipping to USPS APO and military addresses.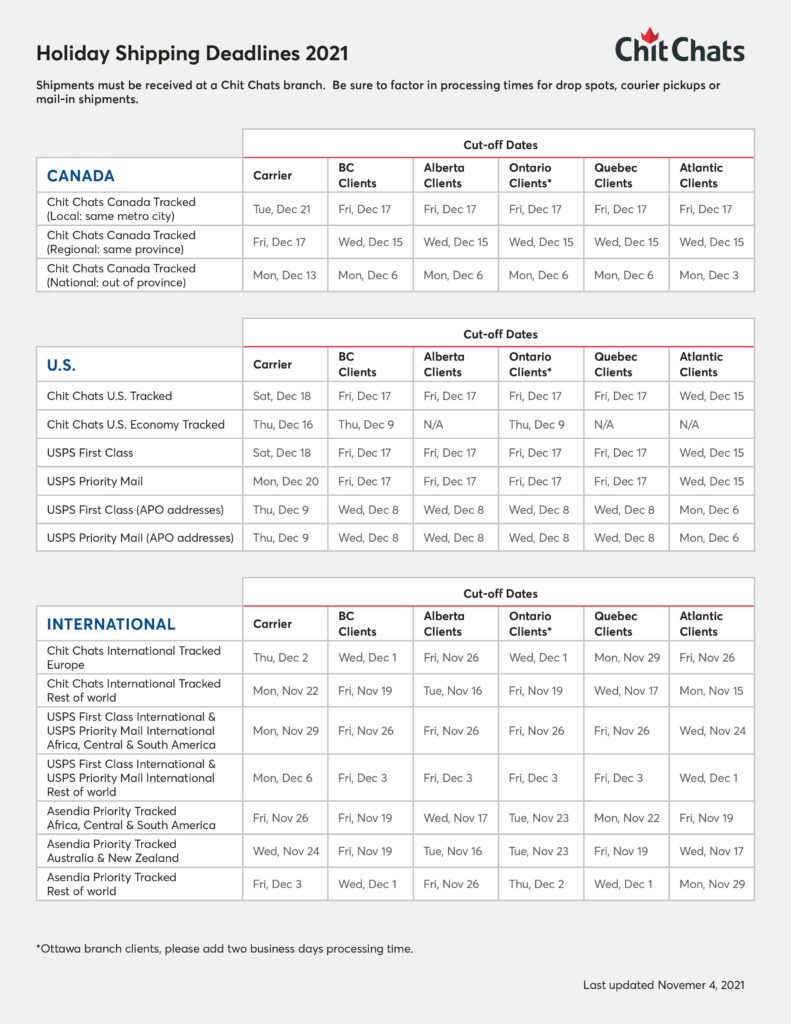 *Legacy service. Service availability may vary.