Update Aug 8
Thank you for your feedback on the recent launch of our enhanced descriptions for international shipments! We've been busy making changes to better suit your workflows for shipping overseas and we want to share some tips to help make it a breeze, starting with a closer look at the new feature in action: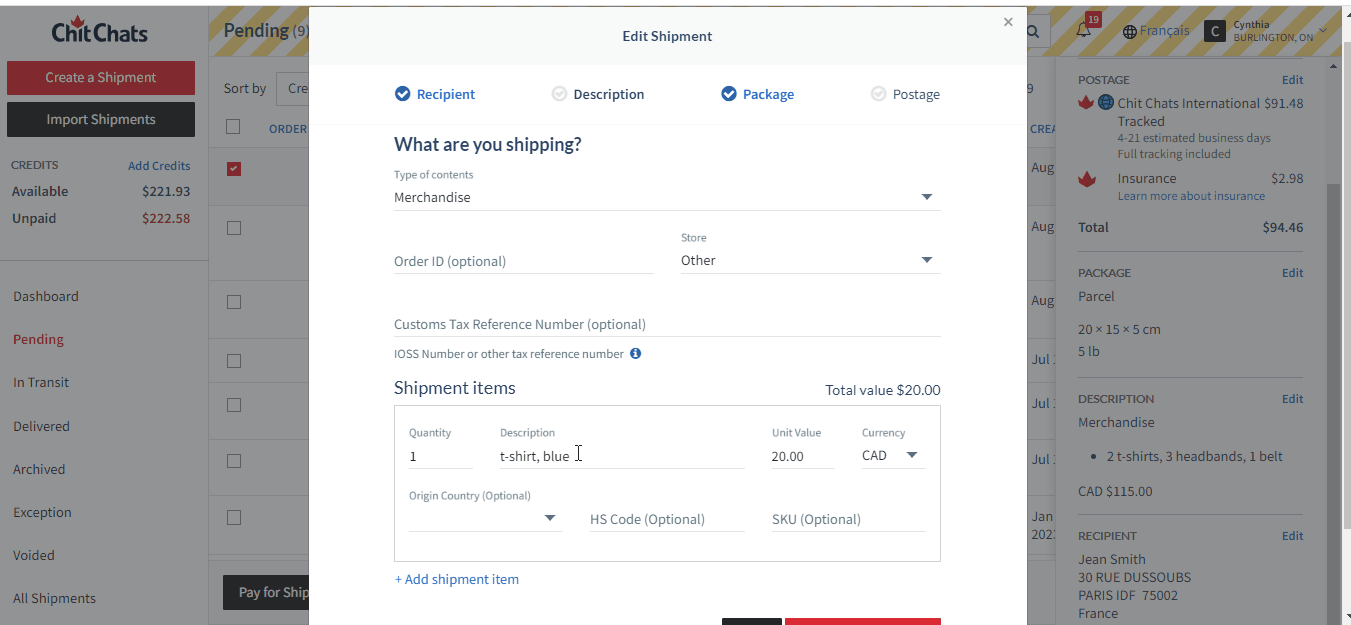 Helpful Tips for Shipment Creation
Add as many items as you need with '+ Add shipment item' or delete any items you've removed from an order by clicking on the trash icon.
Easily increase or decrease the quantity for any item. Our platform will calculate the total retail value on your behalf, just make sure to input the unit value for your items. This is the retail value for just one of a particular item.
Country of origin and HS codes are optional fields but are highly recommended as more countries push to make them mandatory.
Important! All descriptions must be provided in English for customs purposes. Non-English characters are not supported.
Special Notes for Importers
Whether you import shipments from your connected store, with our API or using the Chit Chats CSV, there are a few special things to be aware of when creating your international shipments.
We support only two currencies: Canadian and U.S. dollars. Foreign currencies will be converted to CAD at the current exchange rate.

The $ symbol can be included before your unit value or it can be omitted. However, it cannot trail this amount. e.g. 10 $

Be on the lookout for discount codes and other reduced pricing which we may pull from your connected store. The items in your shipment must be declared at their retail price and the total for your shipment must not exceed $800 for U.S. and international shipments.
Not following the recommended formatting for the description field (quantity, description, value; quantity, description, value; etc.) won't cause your import to fail but your customs descriptions may end up all on one line.
Need to ask a question or still having trouble? Contact our friendly support team, we'd be more than happy to help!
---
With care being top of mind for your shipments, we have two updates planned to optimize our international services on Thursday, July 27. 
We'll be partnering with Asendia for our Chit Chats International Tracked service
Enhanced customs descriptions for all international shipments
Find all the details below and tips to adapt your workflow.
1. Chit Chats International Tracked & Asendia
Chit Chats International Tracked will utilize Asendia in lieu of APC. This means our Asendia International Priority Tracked option will be retired and the last day to purchase this postage type will be July 27.
Moving forward, you will either see Chit Chats International Tracked or USPS International postage options for your shipments when available for the destination. You'll be able to ship to the same countries as before with Chit Chats International Tracked at the same great prices of our current Asendia offering.
Enjoy full tracking with improvements to transit events from Asendia
Chit Chats Insurance available
Chit Chats International Tracked does not support returns
If you import shipments or use our API simply make the switch to chit_chats_international_tracked in the postage type field.
2. Enhanced Shipment Item Descriptions
Back in March, the EU introduced new rules and regulations, becoming stricter on detailed shipment descriptions to prepare for HS coding requirements. To ensure your international shipments are compliant with customs regulations we are improving the way that you enter shipment details for all international shipments.
We will be introducing enhanced shipment item descriptions for you to detail each item in all your international packages. This will include quantity, a detailed description and value for every item in your shipment no matter how you create your shipments.
To provide an HS code or country of origin for your items will be optional at this time.
Creating a Shipment (Manual Method)
In the Description step, you'll notice a new section called Shipment items. Here you can enter the quantity, detailed description, along with the currency and value of each item in your package.
Once you've completed the details for one item, click on "+ Add shipment item" to include as many more as you need then save and continue as you would normally. HS codes & country of origin are optional.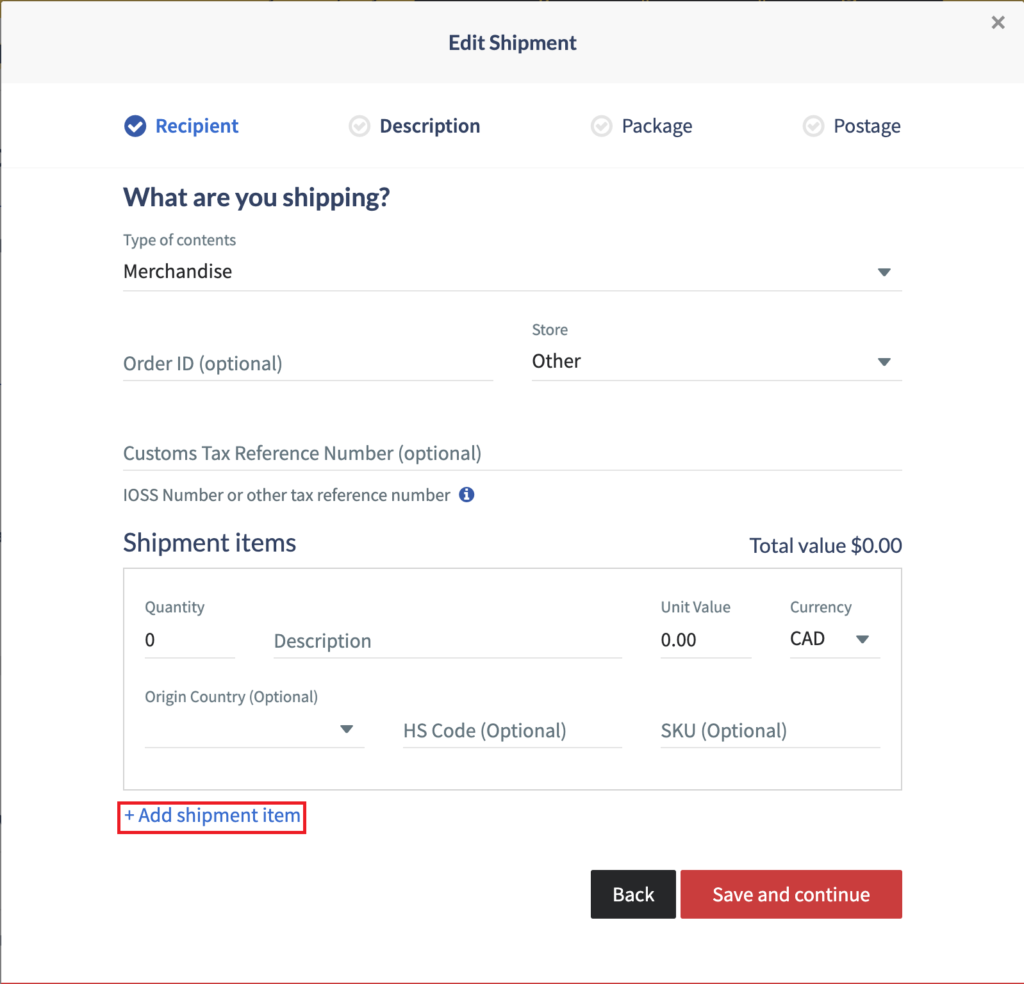 Store Integrations
As most of your product listings already include the quantity, description, value and currency, you'll be able to import your shipments without disruptions to your workflow. Our store integration will do the rest! We recommend verifying your descriptions and values are up to date in your store to prevent hiccups. And if ever you need to make a change, you can always edit a particular shipment after importing and before buying your postage.
Chit Chats CSV Imports
When importing international shipments with the Chit Chats CSV, you'll need to make a few changes to how you format the description field (column J). Here, you will need to outline each type of item in your shipment and separate their descriptions with a semicolon (;).
Take care when formatting! Each item must contain the quantity, description and value in this order.
e.g. 2 greeting cards $10; 6 t-shirts $100
e.g. 3 alphabet t-shirts, light blue 50; 1 apples t-shirt, green 15; 2 apples t-shirts, purple 35
❗ Failing to provide separate descriptions for the items in your package can impact its delivery. It may be marked as undeliverable, be delayed or held with customs, incur surcharges or be assessed the duties or customs tax amount. Chit Chats International Tracked does not support international returns.
❗ Please avoid using a mix of currencies (e.g. USD & CAD) in one package. This will cause the declared value of your shipment to be calculated inaccurately.
Learn how to troubleshoot errors
If you'd like to add an HS code or country of origin, this can be done after importing your shipments and before you buy postage.
API
Our API documentation is up to date with the requests you'll need to make to include detailed item descriptions for your shipments.
Editing Shipment Imports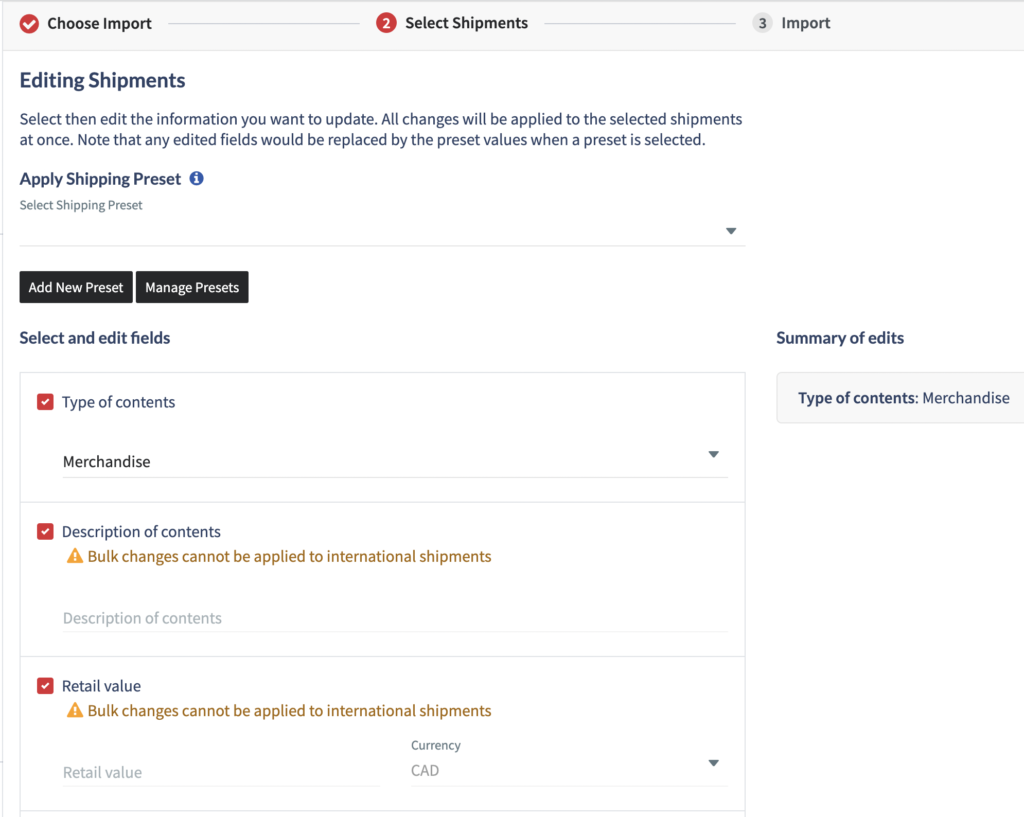 Applying presets or edits in bulk to descriptions and values will be unavailable for international shipments as each item contained within must be updated separately. To make changes after an import, simply navigate to your Pending shipments and click on a particular shipment to edit it before purchasing postage.
These enhancements are part of our continued efforts to help make shipping as seamless and painless as possible. It's important that shipment information is accurate as customs and international postal operations become stricter in their requirements. We know international shipping can be daunting but our aim is to make it easy for you so that you can tap into international markets and grow your business.