Did you know that there's a simple way to save even more with Chit Chats?
You may already be saving on postage without even realizing it. Depending on the size of your U.S. shipments, you may qualify for special pricing from our partner carrier, USPS.
This is the benefit of cubic shipping, an additional discounted rate from USPS for packages up to 20 lb but no more than 0.5 cubic feet in volume. Chit Chats directly passes on this discount from USPS to you so that you can always save big on your small, heavy packages!
What is cubic shipping?
Cubic shipping is a cost-effective option that helps you save with pricing that's not based on shipment weight. Only two things impact cubic shipping rates: the shipment's destination and its cubic dimensions. This discount gives major savings for your compact and heavy shipments.
For example, if you want to ship an 18 lb kettlebell to the United States, you would typically pay for postage by the pound. However, if after packaging your kettlebell, it measured less than 0.5 cubic feet in volume, it would qualify for the cubic shipping discount. Your postage would then cost the same as any other shipment with this cubic volume and destination.
Cubic shipping differs slightly from some flat-rate services where weight and destination do not influence the postage rates but the item must fit within specific measurements or packaging.
---
Does your shipment qualify for cubic shipping?
To qualify for cubic pricing, your shipments will need to meet all of the following criteria:
Shipments must weigh 20 lb or less
Shipments must measure 0.50 cubic feet or less
The longest dimension may not exceed 18 inches
The shipment must not be a roll or tube
If you use a thick envelope (softpack) to ship your items, then there are additional requirements:
Take the measurements of your envelope prior to packaging your items
The shortest dimension may not exceed 2 inches
The sum of the two longest dimensions may not exceed 36 inches
Your packaging must be flexible and fit tight to the contents
You can reference USPS' guide on cubic pricing qualifications for more information.
Calculating cubic volume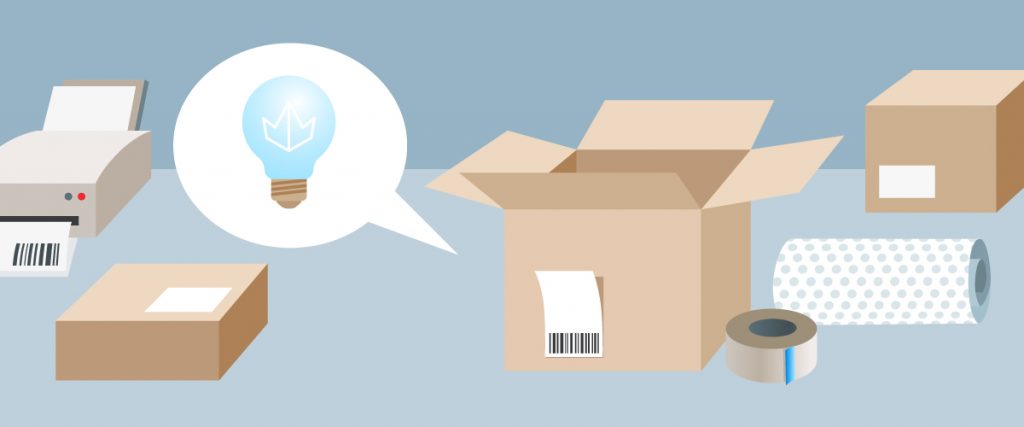 To calculate the cubic volume of your shipment, first carefully measure the length, width and height of your shipment in inches. If needed, round your measurements down to the nearest ¼ inch. Then use the following formula:
(L X W X H) / 1,728 = Cubic feet
For example, you can calculate the cubic volume of a shipment with the dimensions 6, 5 ¾, 6 ¼ inches as below:
(6″ x 5-3/4″ x 6-1/4″)/1728 = 0.125″
Access cubic shipping from your Chit Chats account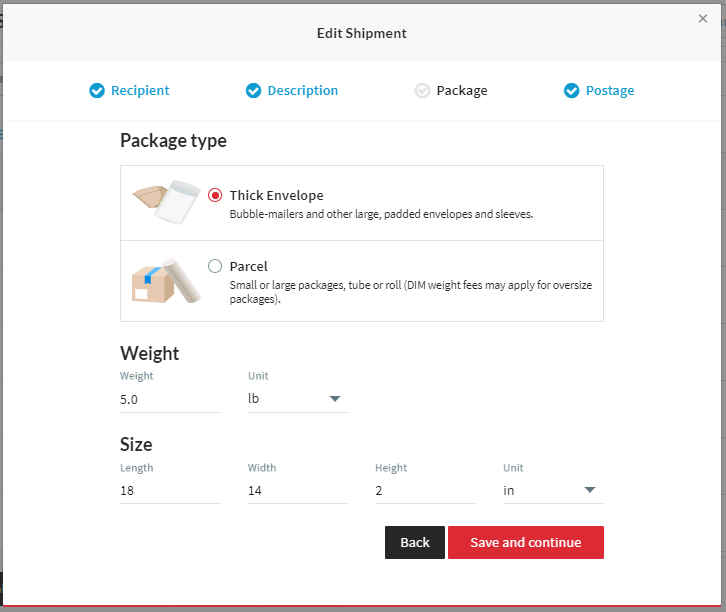 To make it as easy as possible for you to save money on postage, our platform takes the guesswork out of cubic shipping.
Your Chit Chats account will automatically apply our cubic discount to your USPS or Chit Chats U.S. Tracked postage based on the destination and dimensions you enter. While creating your shipments, be sure to select either the parcel or thick envelope option under Package Type and don't forget to include all of the dimensions.
Discounts are applied for the following tiers based on cubic volume. Parcels measuring:
Up to .10 cubic foot
Between .10 and .20 cubic foot
Between .20 and .30 cubic foot
Between .30 and .40 cubic foot
And from .40 to .50 cubic foot
This means that for two parcels weighing 4 lb and 15 lb, each with a cubic volume between 0.30 and 0.4 cubic feet, both will receive the same cubic discount.
Package your shipments for the best rates
When taking advantage of cubic shipping, only the dimensions and the distance of where your shipment is going are taken into account. This is why properly packaging your shipments is extremely important.
Although not required in order to receive their cubic pricing, USPS has USPS Priority Mail boxes that are specially designed for each of the cubic tiers. Be careful when using this packaging as it cannot be used to ship with any other USPS services or with other carriers.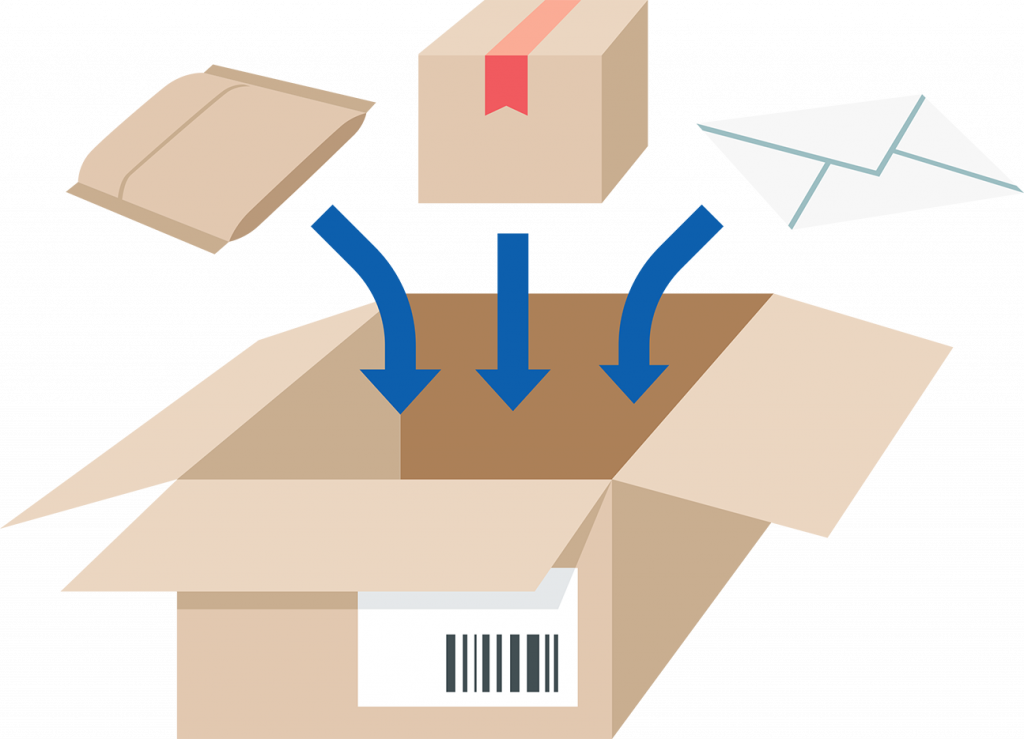 Whether you choose to use USPS packaging or not, it is important to take care with your shipments' packaging. Here are our packaging recommendations for the cubic discount:
Pack your items as small as possible
As long as your items have sufficient padding, the smaller the shipment, the better.
Don't worry about the weight
If your shipment is less than 20 lb, your postage will only be based on the dimensions and destination.
Test out different shapes
You may be surprised by all the different box shapes that share the same cubic volume.
Ditch the box altogether!
If you can't find a suitable box you can also use well-padded poly mailers, plastic or vinyl envelopes. Just remember the additional requirements for softpack shipments.
Avoid tubes and rolls


These types of packaging do not qualify for cubic shipping even if put inside a poly mailer as softpack shipments must be flexible.
We love being able to help you save money on postage. If there's another topic you'd like us to dive into next, please let us know by reaching out to support@chitchats.com.
Start saving with Chit Chats today
No hidden monthly fees. Unbeatable prices. 20 million parcels delivered.