Update August 17, 2023
Great news! You can now save more on your larger and heavier Canadian shipments. Our Chit Chats Select service now accommodates shipments weighing up to 65 pounds and measuring up to 40 inches.
---
We understand that your business needs to stay competitive, especially with the current market trends. That being said, Chit Chats always looks for ways to keep shipping low-cost so you can get products to your customers with amazing rates, full tracking and fast delivery.
We're excited to announce that we've worked hard to improve the rates offered with our Chit Chats Select service. Listening to your invaluable input, our team has renewed our Select service to provide you with even more affordable rates. We can't wait to share these savings to help you grow your business and bring greater value to your customers. New Select rates will be available on Monday, June 12.
Canadian Shipping Savings with Chit Chats Select
Imagine you're a vintage clothes seller who sends packages to customers across Canada. Your savings can be over 50% with Chit Chats Select!
Chit Chats Select
National Carrier
Savings
Vancouver to Calgary
10 lb
$9.59
$22.75
58%
Montreal to Calgary
2 lb
$8.29
$18.30
55%
Toronto to Vancouver
1 lb
$7.44
$16.48
55%
Chit Chats Select Rates Comparison
Accessing these new rates require no changes on your end but you may notice a new look to your shipment cost breakdown. You'll notice that applicable fuel surcharges are now displayed on a separate line item for greater visibility on the cost of your postage.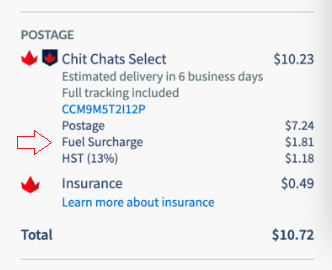 Chit Chats Select Features
With Chit Chats Select, the benefits don't just stop at the pricing! With several attractive features, you can minimize tracking inquiries and boost customer satisfaction. Most recently, we've added the option to provide your customers with return labels for their Select shipments so you can simplify your return policy.
Features
Full tracking with delivery confirmation
Ideal for shipments up to 20 lb
Chit Chats Insurance
Safe drop for when your customer is unavailable during delivery
Return service and a return label option for your customers
Fast shipping, estimated delivery in 2-8 business days
Ideal for shipping to a major metropolitan city, this service provides great transit times whether local, regional or national.
| | |
| --- | --- |
| Delivery Destination | Estimated Business Days* |
| Local | 1-2 |
| Regional | 2-4 |
| National | 5-6 |
| Remote | 8 |
*Delivery times are estimated and not guaranteed
Shipping to an apartment or building? Simply include the buzzer or recipient phone number when creating your postage for a smooth delivery to your customer.
Chit Chats Select
Find all the details on this amazing low-cost Canadian service and save big on Canadian shipping