Canadian businesses often ship to the United States, as it is our closest neighbour and biggest trading partner. However, this can be extremely expensive. So what is the cheapest way to ship from Canada to the U.S.? Please see the example and information below, and if you're not already a Chit Chats member then join now and get $5 in account credit instantly!
For this blog post, we're going to try shipping a sample package from Toronto to Beverly Hills. The package will have dimensions 6″ by 6″ by 2″ and a weight of 1 lb. We'll also try to compare apples to apples. A cheaper rate is nice, but you probably also want tracking and/or insurance for your parcel. We'll try to break things down with that in mind, as well as the ease of access to these shipping services.
Canada Post
Canada Post is the most common way Canadians ship their packages. For shipments under 2 kg, you can use Tracked Packet™– USA to send small and lightweight items to the U.S. within 4-7 business days. Another option is Small Packet™ USA – Air which takes about 5-8 days, but will be a little cheaper. However, the Small Packet does not include tracking.
For our sample package, our Small Packet option would cost $13.33 while the Tracked Packet option would cost $20.13.
Courier Services
There are several courier services available—FedEx and UPS for example—that can be helpful options for getting your packages where they need to go. The rates for these can vary greatly depending on the region and package type, making it difficult to compare them one to one.
However, there are a few online services that help you find the best rate for these couriers. Both SecureShip and NetParcel allow you to compare rates and then print shipping labels from your home. Comparing these two services, the cheapest courier service for our route is going to be UPS. Secureship found a rate of $16.65 while NetParcel found a rate of $18.37 which is substantially cheaper than the base UPS rate of over $30.00. This isn't as cheap as Canada Post's cheapest rate, but it is cheaper than the comparable tracked Canada Post service.
It's also relatively easy to get your parcels to a courier service. FedEx has over 1200 dropoff locations in Canada while UPS has almost the same number. It's not the same as Canada Post's 6200 post offices, but if you live near a major city you shouldn't have any issues using these services.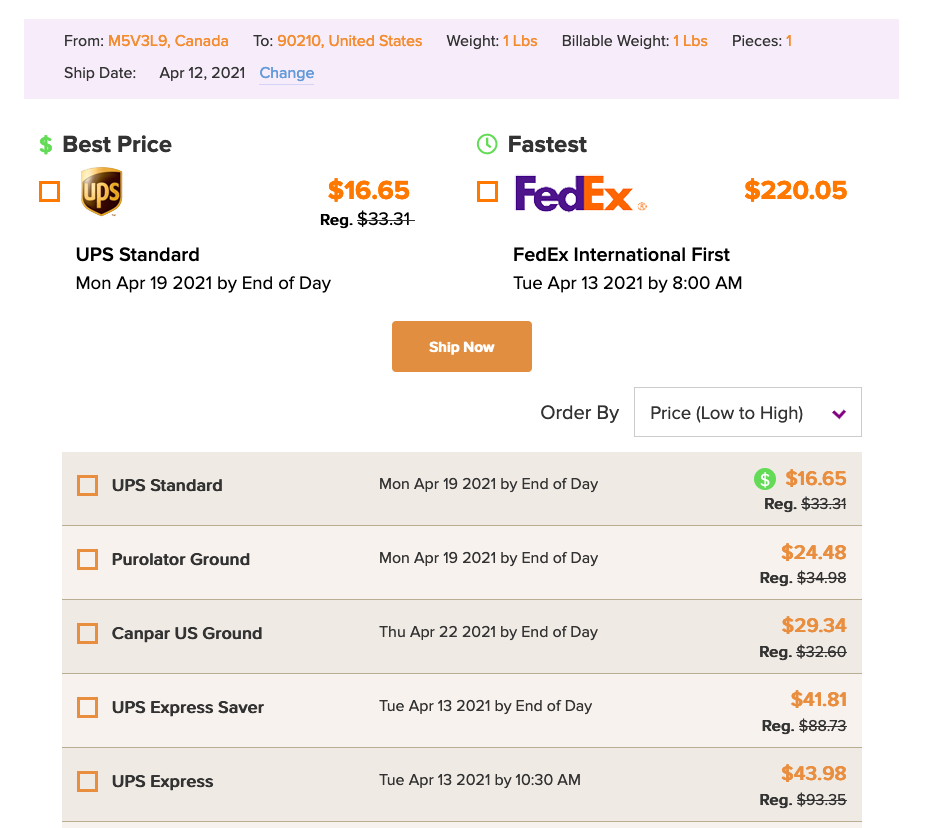 Specialized Shipping Companies
Several shipping companies such as Chit Chats or Stallion Express, manage to reduce costs for their customers by taking advantage of USPS's cheaper rates. By consolidating their client's shipments, and driving them across the border, they're able to take advantage of USPS's economics of scale to reduce shipping costs for Canadians. Chit Chats has locations across Canada while Stallion Express is limited to Ontario only.
We're obviously a little biased, so for our example, we'll use Chit Chats. With the Chit Chats U.S. Tracked service, we can get your package to Beverly Hills for $13.95 with tracking. As a smaller company, Chit Chats has fewer branches and drop-off areas than Canada Post, although the number is quickly expanding. Low-cost insurance is also available for an additional fee.

Conclusion
So what's the cheapest way to ship from Canada to the U.S? The answer is going to depend on what you want. For the parcel size we're shipping, Canada Post offers the cheapest rate. If you want tracking included, however, Chit Chats is clearly the way to go! However, you may find it easier to get your parcel to a courier, like UPS, as these have more locations available.
| Service | Cheapest Rate | Tracked? | Insurance | Can I use this service? |
| --- | --- | --- | --- | --- |
| Canada Post Small Packet | $13.33 | No | No | Everywhere in Canada |
| Canada Post Tracked Packet | $20.13 | Yes | Base rate covers up to $100 | Everywhere in Canada |
| Courier Services (UPS, FedEx, etc) | $16.65 | Yes | Base rate covers up to $100 USD | Most places in Canada |
| Chit Chats | $13.95 | Yes | $0.49 CAD covers first $100 USD | Over 50 locations and growing. Pickup options also available. |
Comparison of Canada to U.S. shipping services and rates
Start saving with Chit Chats today
No hidden monthly fees. Unbeatable prices. 20 million parcels delivered.