At Chit Chats we offer our services and low-cost postage to Canadian entrepreneurs with locations in British Columbia, Alberta Ontario, Quebec and the Atlantic region. We refer to these areas as the Chit Chats regions, each with their own hub locations for processing and sorting shipments.
What is my Chit Chats region?
Your Chit Chats region is simply the province you drop off your shipments to.
For example, if you live in Ontario and drop off at one of our Ontario branches, naturally your Chit Chats region will be Ontario. However, it may be less clear if you ship from an area without a Chit Chats, for example Manitoba. In this case you might choose Ontario for your region and send your shipments directly to our Ontario hub.
You are asked to select your region when you sign up for an account.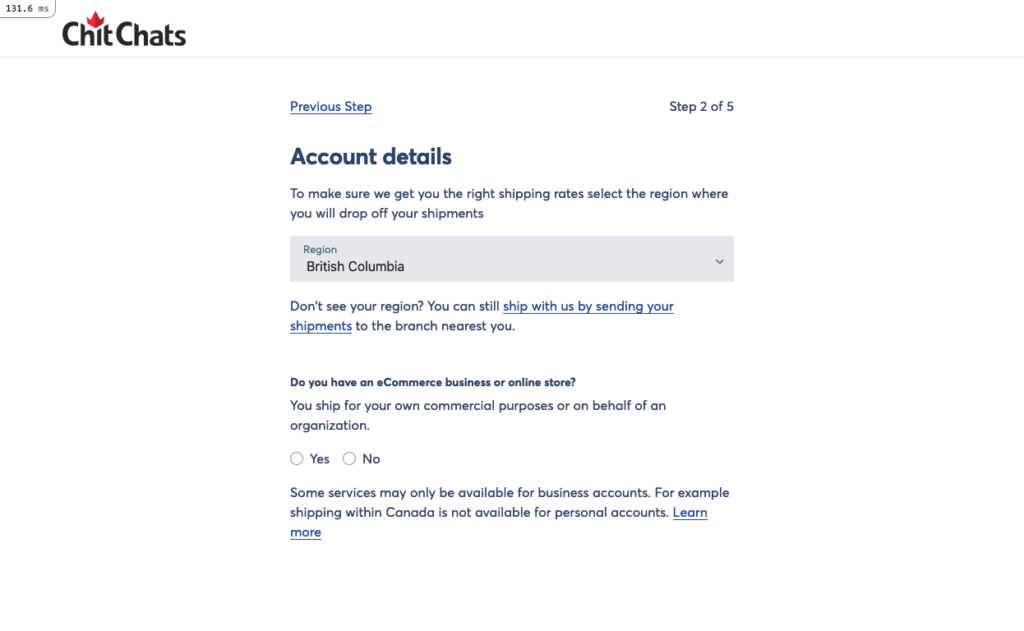 Your region lets us know where we can expect to receive your shipments and the correct rates and addresses to apply to your postage. For this reason, our branches only accept shipments created under the correct region.
Creating postage from the wrong region can cause issues with:
Shipping from another region
As mentioned, you can still take advantage of our low-cost postage from an area without a Chit Chats location nearby. Many out-of-region clients either schedule a Canpar pickup or mail-in their shipments to a hub branch in a different region.
Similarly, if you ever move to another location in a different region or occasionally ship with a branch in another province, you will need to update your region.
How to update your Chit Chats region
In any case, it is important to always select the region that matches the branch receiving your shipments.
To find or update your region:
Go to your Settings / Shipping
Click on 'Change'
Then select the appropriate region from the drop down menu.
Once selected, our platform will automatically save your settings for you.

Remember, you must do this before creating your shipments for any changes to take effect.