Grab a pumpkin spice latte or a bag of caramel corn because it's time to cozy up to another client spotlight. This month we are celebrating entrepreneurs that bring so much joy to this time of year through their own creepy creations! Let's jump into the festivities and uncover the stories from Art from Mi Heart, Cursed By Design and Kstar Feathers.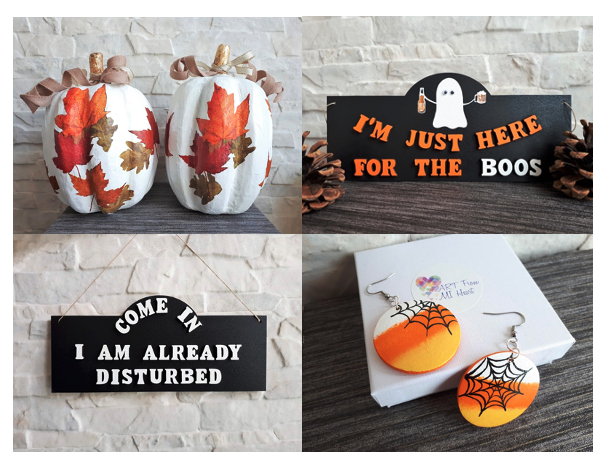 Just in time for the spooky season, we kick off this month's client spotlight with a Montréal based Esty shop that creates seasonal wooden signs, and hand-painted pumpkins. Shop owner and artist, Maayan gets inspiration for her one-of-a-kind pieces through a "fusion of creativity, love, and lots of humor" which has contributed to many glowing reviews for her great customer service, excellent product quality, and prompt shipping.
Like many of our Chit Chats clients, Maayan was recommended to look into using Chit Chats by one of her friends and fellow Esty sellers. She was delighted to find a branch in her area three years ago and hasn't looked back.
Although I don't ship great volumes, I keep on coming back thanks to the excellent customer service and affordable rates.

Maayan, Owner of Art From Mi Heart
Get into the spirit of the season with one of Art from Mi heart's 'punny' signs, handmade earrings or personalized ornaments. They make for fun and unique home decor pieces and excellent gifts. To view all of her current product offerings, head to her Etsy shop or Instagram.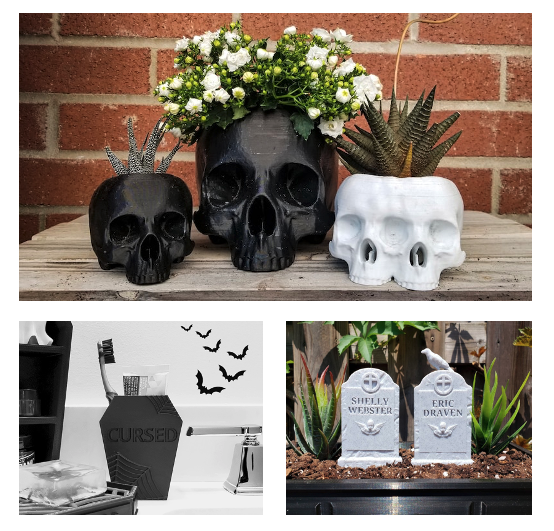 Crazy about Halloween? So are shop owners, Mandy and Brian of 'Cursed by Design' who sell gothic home decor and gifts so you can make all holidays as wicked as October 31. It all began with a passion project to decorate their home with their own eccentric style when others started to ask for help to unleash their own creativity. Now they sell hundreds of spooky items on their Etsy store like coffin soap trays, bat light switch covers, and are continually adding new creepy products.
Their once small hobby has now grown into nearly fifteen thousand sales and stellar reviews from their customers who cannot wait to receive their items in the mail.
Cursed by Design has now been a Chit Chats shipper for over two years and has been heralded for its fast shipping and perfect packaging. To order your own unfriendly ghost figurine or spooky custom order, visit their Etsy store, or follow them on their social media platforms.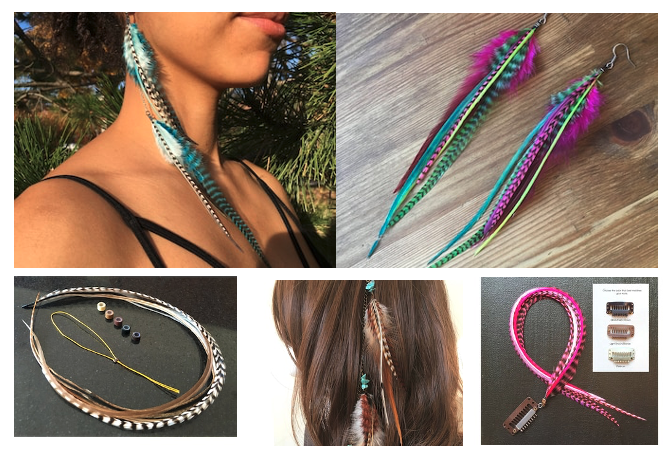 Kstar Feathers, another artisan shop based in Montreal, creates fascinating feather accessories that would be a magical addition to any outfit this autumn. Customers can choose from a number of feather extensions and barretts to adorn their hair in colors like blue, turquoise, purple, and lilac. Matching pairs of statement earrings on hoops are another popular store item and can be customized based on your preference of metal, gold or stainless steel. Create your own whimsical accessories with the feather hair extension kit that includes feathers, beads and threader.
Besides the endless array of options store owner Kashi has to offer, her amazing reviews, and growing sales speak for themselves. When visiting her Etsy store you can see the care and attention she puts into her handcrafted, one-of-a-kind pieces.
I also just really enjoy working with my hands, and making your little treasures with care. I also have come to really enjoy working with feathers. They are light but surprisingly strong.

Kashi, Owner of Kstar Feathers
Kashi has been shipping with Chit Chats for over two years now and during that time her sales volume has steadily increased. Those in the Montreal branch, where Kashi ships from, are delighted for her success, and excited to see where her unique items will be sent next! If you too would like to add some flair to your hair or know someone who would, visit her Etsy shop or social media pages for more information.