Chit Chats exists so that you can live your dreams and grow your business. So it's no surprise that we're always looking for ways to help you save time and money.
Our goal is to provide you with the best low-cost postage options and we've made improvements over the years to simplify this for your workflow. Which brings us to our latest exciting feature to help make finding the best rate for your U.S. shipments even easier!
Cheapest Postage Option
When creating shipments in your Chit Chats account manually, it's easy to get the best rate. Simply select the top postage option during the Postage step to secure our lowest rate for your shipment.
However, if you import your shipments, depending on your workflow, determining the cheapest rate may not be as straight-forward. That's why we want to take the guesswork out of finding the cheapest rate for your U.S. shipments with a new setting and shipment field.
This feature is only available for shipments to U.S. addresses at this time.
Chit Chats CSV & Chit Chats API
To have the Chit Chats platform automatically suggest the lowest postage rate available for your shipments you will need to do the following during import:
Set your postage_type to unknown
Set the new field cheapest_postage_type_requested to yes
Your shipments will now import with the cheapest U.S. postage_type available.
Connected Stores
If you import your orders with one of our store integrations you can make use of our bulk editing and presets tools to secure the cheapest rates for your shipments.
When importing your shipments, select those you wish to edit then go to the section on Postage. You'll see two options:
Yes, automatically select the cheapest postage
Manually select postage type
Select the first option to ensure you get the lowest rate for your shipments or if you prefer to choose, click on the second option to pick from your postage options.
Similarly, you can create a preset from your Shipping settings to always select the cheapest postage rate for your shipments.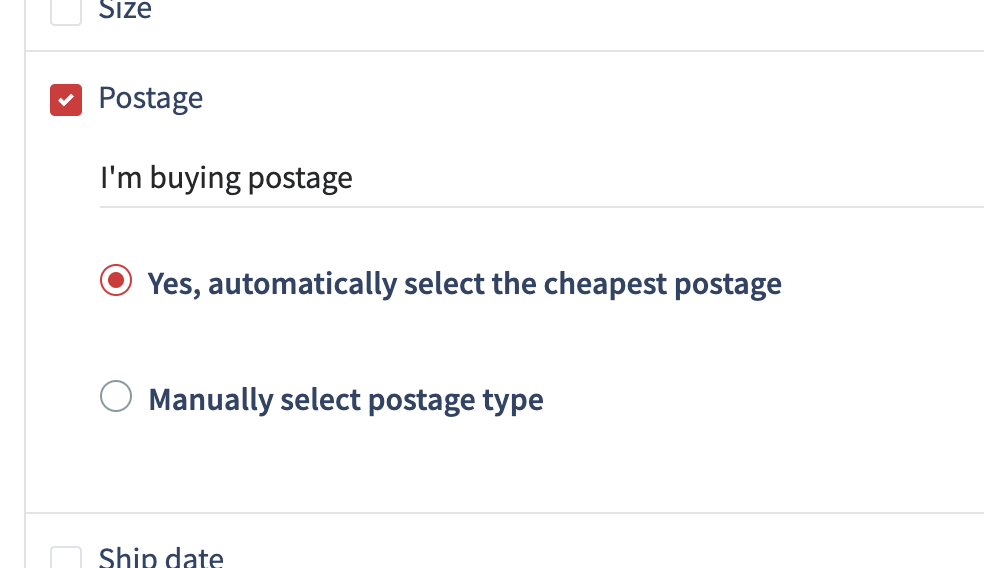 After you save your edits or apply your preset, the Postage type will display "Cheapest Rate" and your U.S. shipments will import with the best postage rate available.

You'll never have to miss out on the cheapest postage for your shipments again!