Update Nov 19, 2021:
Note: We have temporarily paused this service for our clients in BC as a result of the transportation issues caused by the ongoing flood emergency. Please see our recent blog post for more updates.
We regret to inform our clients that upon reviewing the Chit Chats U.S. Economy Tracked service we discovered an error in the implementation of our rates. As a result, this meant that we displayed lower pricing for shipments originating from Ontario than we had intended to.
To address the mistake, we will be updating our platform with the correct rates for the service on Monday, November 22, 2021. Although Chit Chats U.S. Economy Tracked will still be an economical option for your U.S. shipments, you may see a noticeable increase in postage rates for some shipments.
We sincerely apologize for the error and we understand that there may be impacts to your business. Please rest assured that Chit Chats will honour the pricing on all postage purchased before we make the change as we want to give our clients an opportunity to review their shipping rates and make adjustments. We will continue to process all of your Chit Chats U.S. Economy shipments as normal and there will be no other impacts to the service offering or your workflow.
Again, we want to apologize for the mix up and thank our clients for sharing their feedback on this new service with us. If you have any questions, please do not hesitate to reach out to our friendly support team! 
---
*This service is currently only available to clients in our BC and Ontario regions.
We always look for ways to provide value to our clients whether it's expanding our access points, adding new features or improving our services. We've been working hard behind the scenes and as we gear up for the holiday season we are excited to share another new postage offering.
We recently launched our Chit Chats International Tracked and we now are proud to officially announce Chit Chats U.S. Economy Tracked. This is a new low-cost postage option for shipments to the U.S. If you are looking for the cheapest option to ship to the U.S. then this service is for you! The transit times for this service are a bit longer than our Chit Chats U.S. Tracked postage but comparable to national carriers. Plus you'll still have full tracking and Chit Chats insurance.
Chit Chats U.S. Economy Tracked
Features of this new U.S. postage type include:
Full Chit Chats Tracking with delivery confirmation
Optional Chit Chats Insurance
Savings of up to 60% compared to Chit Chats U.S. Tracked*
*Dependent on destination and weight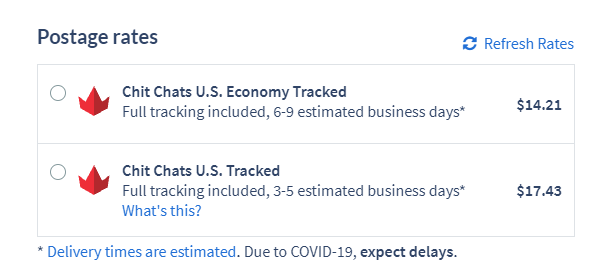 How it works
Our Chit Chats U.S. Economy Tracked Service uses our partnerships with USPS to get shipments into the hands of your customers for less. Chit Chats will process your shipment and release it to USPS who handles the final delivery of the shipment to your customer.
Chit Chats U.S. Economy Tracked is designed for shipments up to 15 lb and postage is determined by the weight, dimensions and destination of the shipment. The service is optimized for parcels or shipments packaged in thick envelopes and may not be suitable for letters or cards. Dimensional weight may apply.
Due to the transportation methods of this carrier, there may be limitations on what can be shipped. Please familiarize yourself with the restrictions specific to this carrier before shipping.
Average estimated delivery times are based on the origin of your shipments:
Shipments from BC: 6-12 business days
Shipments from ON: 4 -10 business days
We hope that Chit Chats U.S. Economy Tracked is able to help you save ahead of a busy holiday season. And, we'd love to hear your thoughts on this new postage option! Feel free to drop a line to our support team to share your feedback.