Update: Mar 17
We have recently identified the issue that was affecting a number of Chit Chats International Tracked shipments causing inaccurate and duplicated tracking events.
After working diligently with our partner, we were able to resolve the bug that was causing tracking event timestamps with future dates. We are happy to report that all newly created shipments will receive accurate tracking information moving forward. The shipments with affected tracking events may continue to see these past events in their tracking histories but our clients should anticipate the items to be delivered as normal.
Our support team will continue to field refund requests for voided shipments that were caused by a related bug. If you believe that you have been affected by this issue, please follow the instructions below for submitting a refund request.
We thank you for your patience while we worked to resolve the issue and offer our sincere apologies for the inconvenience that it has caused. 
---
We are currently investigating issues regarding Chit Chats International Tracked postage. During this time we are working with our partner, to resolve tracking issues which have had the following effects:
Duplicated and incorrect tracking event histories
Voided shipments with updated tracking events
Refused refund requests for unused postage
If you've experienced any of the above with your shipments, please read on for details on next steps.
Duplicated and incorrect tracking event histories
Some clients have noted shipments receiving duplicate tracking events or that Chit Chats tracking events for their shipments display the incorrect date or time. Until the issue can be resolved, we recommend that you advise your customers to follow along with the carrier tracking for the shipment. We do not expect these tracking errors to have any impact on the delivery of your shipments.
However, if you notice that your shipment has exceeded its estimated delivery date, our friendly support team would be happy to investigate further.
While we work to resolve the issue for the affected shipments, you may continue to see these incorrect tracking events. Once resolved however, the tracking events should return to normal and your package will be delivered as expected.
Voided shipments updated with tracking events
There are also reports that the erroneous tracking events may affect some previously voided shipments. These pre-transit events have caused some shipments to be automatically inducted into our system, and this may have resulted in postage fees being charged. We apologize for the error and are working to reverse the charges as quickly as possible.
If you believe that you have been affected by this issue, please follow the instructions below for submitting a refund request. Once your request has been submitted, we will investigate your case and process any refunds.
Refused refund requests for unused postage
On the Chit Chats platform, refunds may only be requested for unused postage. However, as some shipments may have been incorrectly inducted, postage refund requests may be rejected automatically.
If you believe that your postage refund was rejected as a result of these tracking errors please take the following steps to submit a refund request through our support team. Once you've submitted your ticket, we will be happy to investigate the issue and resolve the refund for any affected shipments.
Submitting a refund request
Navigate to our contact page or log into your account. Click the 'Help' button in the bottom right corner then 'Contact Us'
Select the following from the drop down menus:
Inquiry Type: Credits, Refunds & Billing Inquiry
Inquiry Details: Refunds
Additional Inquiry Details: Postage refund
Carrier: International Tracked: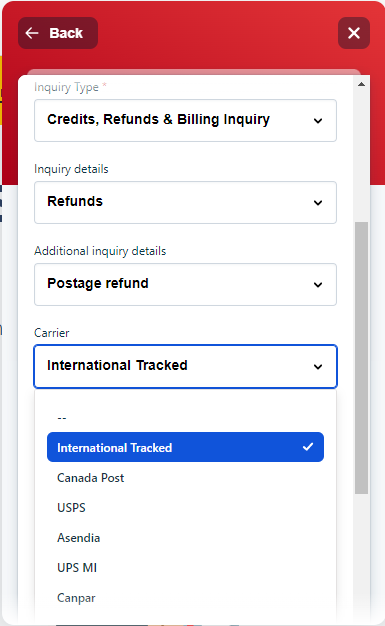 Finally, input your shipment ID and the amount you'd like to request for the refund.
Rest assured we will be diligently working to investigate the refund requests and process them as quickly as possible. We appreciate your patience during this time and will be updating our clients with more information as it becomes available.