Chit Chats offers exclusive discounted postage rates through our platform. Once you buy and print your postage with us, you're ready to get your shipments to a Chit Chats location. Postage labels are easily printed right from your account.
On Monday, June 21, we will be changing how Canada Tracked postage labels are printed. There is no change to your workflow as this is simply an aesthetic change and another step towards streamlining our Canada Tracked service. Instead of a Canada Tracked label a Canada Post label will be printed instead.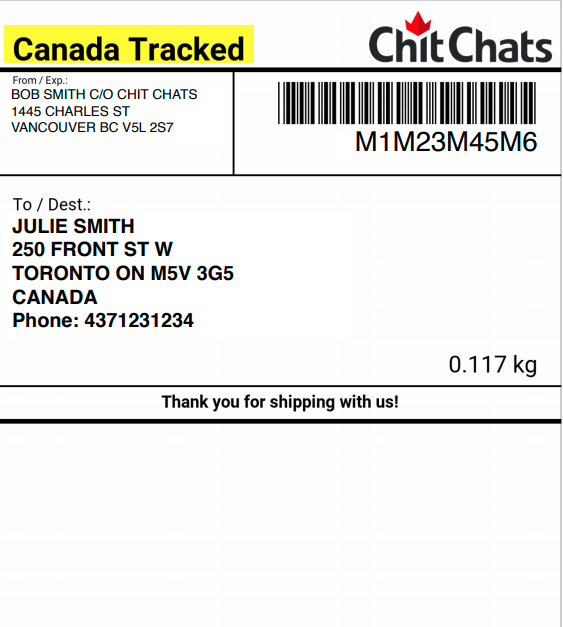 This helps us to process your Canadian shipments faster and continue to keep your costs low. We will be updating our Shipment Compliance Declaration in line with these changes.
All you need to do on June 21 is review and accept the updated Declaration then continue to get your shipments to Chit Chats as you have been.
Shipments should never be given directly to our partner carriers (e.g. Canada Post, USPS) and must always be received by a Chit Chats location first. This includes both Chit Chats branches and Chit Chats drop spot locations.
Key Definitions
Partner carrier – The carrier that Chit Chats partners with to deliver shipments to your customers.
Courier pickup partner – Canpar, the courier that Chit Chats partners with to get shipments from your location to our Hub.
Drop spot partner – Businesses with locations authorized to accept shipments on behalf of Chit Chats. May be a UPS store or other third-party business.
Please ensure that you DO NOT drop off these Canadian shipments directly to Canada Post. Doing so will be met with postage adjustments from Canada Post as they will charge you (through Chit Chats), the full retail postage price plus a large administrative fee. However, as long as you continue to drop off, mail-in or send your shipments to a Chit Chats location, you will have no issues with postage adjustments.
Here's a quick breakdown on the 3 options for getting your shipments to us:
You can drop off your shipments at a branch or drop spot.
Branches

Offer contactless drop & go, client service representative on-site to answer any questions
Visiting a Chit Chats branch? Read more

Drop spots

We've partnered with third-party businesses who accept packages on our behalf
No Chit Chats staff on-site and only pre-labelled shipments are accepted
Convenience access fees and cut-off times apply
If you can't make it to a Chit Chats, schedule a pickup right from your location.
Consolidate your shipments into a larger box
Schedule a pickup directly from your Chit Chats account
By booking through your account, you can access our discounted rates that are 44% cheaper than national carriers.
Canpar pickup cost examples
Example 1: Pickup from Kamloops, BC to Chit Chats Richmond branch

Sending a 6 lbs consolidated box that has 15 individual orders costs about $10

The additional cost averages $0.65 per order

Example 2: Pickup from Guelph, ON to Chit Chats Burlington branch

Sending a 9 lbs consolidated box that has 20 individual orders costs about $11
The additional cost per order averages $0.55 per order
You can also mail-in your consolidated shipments to a Chit Chats hub. Choose a carrier or courier of your choice and mail your shipments to the Chit Chats hub for your region.