Quarantine Act
Last week the Government of Canada announced an emergency mandate under the Quarantine Act. This new order makes self-isolation mandatory for individuals entering Canada. This requires any person entering Canada by air, sea or land to self-isolate for 14 days whether or not they have symptoms of COVID-19.
Failure to comply with this Order is an offense and maximum penalties may include:
A fine up to $750,000 and/or six (6) months of imprisonment
A fine up to $1,000,000 and/or 3 years of imprisonment if the wilful or reckless failure to comply results in a risk of imminent death or serious bodily harm to another person
Individuals who regularly cross the border to provide essential services are the exception to this new order. This includes Chit Chats' cross-border drivers as well as others in the industry.
Compliance with this new order will be monitored by the Canadian Government through spot checks. Additionally, with the safety of our staff and clients as our top priority, Chit Chats will not tolerate any clients who fail to comply. Any client found to be in violation of this order will be subject to disciplinary actions including but not limited to the immediate suspension of their Chit Chats account for a minimum of 14 days.
Physical/Social Distancing
Physical (social) distancing is proven to be one of the most effective ways to reduce the spread of illness during an outbreak.
What does physical (social) distancing mean?
This means making changes in your everyday routines in order to minimize close contact with others, including:
avoiding crowded places and non-essential gatherings
avoiding common greetings, such as handshakes
limiting contact with people at higher risk (e.g. older adults and those in poor health)
keeping a distance of at least 2 arms lengths (approximately 2 metres or 6 feet) from others, as much as possible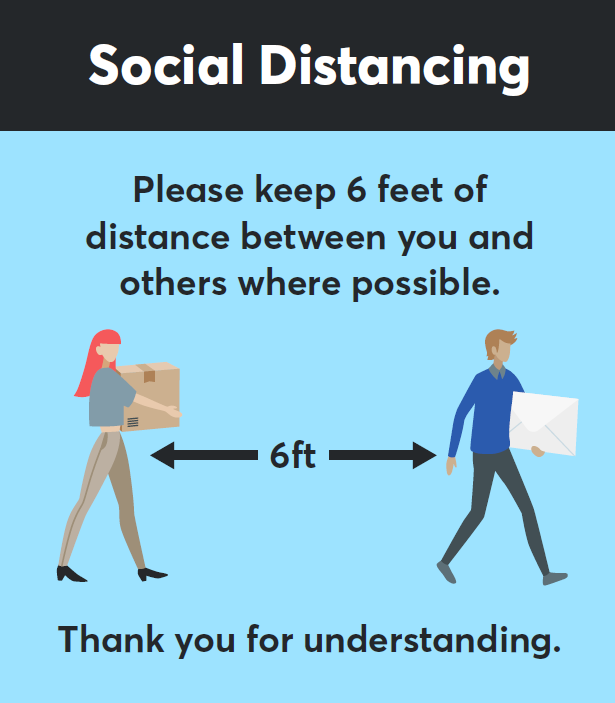 We understand that this is a new change in our behaviour and not always easy to maintain, however it is our shared responsibility to do so. We ask for everyone's cooperation to maintain proper physical distancing when dropping off shipments at our branches. During peak times, this may mean that a queue forms when dropping off shipments safely in our contactless area. We appreciate your patience with this.
Our staff works hard to accommodate all of our clients' shipments in an efficient and organized manner. Failure to adhere to distancing measures poses a serious risk to our staff and our business, as well as yourself and your business. We reserve the right to suspend your Chit Chats account for refusing to comply with distancing measures at any of our locations.