As Canada's preferred shipping solution, our mission is to help Canadian entrepreneurs live their dreams. It all began when our founder, Derek Nolan started taking books across the border and started helping his fellow entrepreneurs in Ontario.
Today, we have grown to service Canadians from east to west and we continue to expand our access points. Chit Chats is the preferred shipping solution used by thousands of online sellers. We give you access to discounted rates that can save you up to 74% to the U.S., Canada and worldwide.
We partner with carriers to provide low-cost fully tracked shipping options from our platform. This allows you to buy and print postage to ship your orders. Plus, we have seamless integrations that make it easy to import your orders from popular e-commerce platforms like Etsy and Shopify.
Once we receive your packages, we process and hand them over to our partner carriers like USPS, Canada Post and Asendia. These partner carriers then move your packages and handle the final mile delivery to your customer. Learn more about our partner carriers.
Tracking updates are provided by our partner carriers. You can find them either on our tracking page or on our partner carrier's tracking page. Learn how to track your shipments and what the different statuses mean. Our client support agents have the same information visible on these pages and if you need further assistance we recommend reaching out to the partner carrier directly. Find resources on how to contact our partner carriers on our contact page.
As the preferred shipping solution, we also offer:
Chit Chats Insurance. This can minimize the potential risk from any lost or damaged shipments. Our low-cost full coverage insurance provides extra protection for any unforeseen circumstances and starts from the moment we receive your packages. Learn more about Chit Chats Insurance.
Chit Chats U.S. return address. Use our U.S. address so that any return shipments can be managed by us. By submitting a Power of Attorney form for approval we will bring your return shipments back to you in Canada.
Chit Chats Supplies. Find a variety of mailers and shipping supplies at a discounted price. We ship nationwide.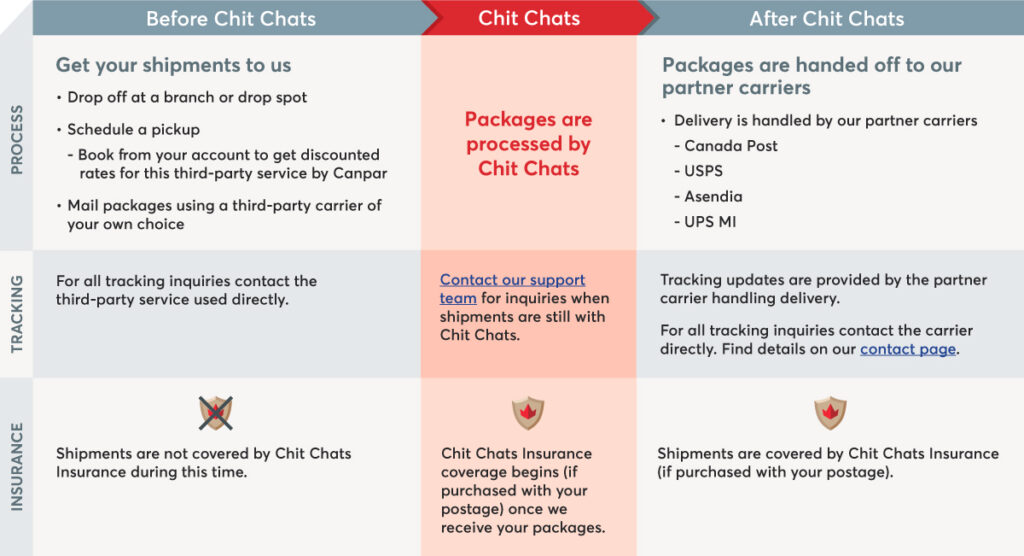 See how Chit Chats works and sign up for your free account today.
Start saving with Chit Chats today
No hidden monthly fees. Unbeatable prices. 20 million parcels delivered.