Given what we've seen this year, the pandemic has already increased the popularity of online shopping leading to delays with shipping carriers. So as we gear up for the busiest time ahead, we also anticipate delays and want to share our recommended holiday shipping deadlines to help you prepare.
The Postal Service expects the busiest time will start two weeks before Christmas but given the higher volumes and safety guidelines in place, this will likely take place much earlier this year.
It's important to keep in mind that higher volumes are expected this year due to the pandemic. we recommend communicating earlier holiday deadlines to your customers.
Upcoming Deadlines
Asendia Priority Tracked to Rest of World
Nov 24: Ontario region clients
Chit Chats Canada Tracked
National
Nov 26: Canada Tracked shipments destined out of province for all client regions
Same province
Dec 2: All regions for Canada Tracked shipments destined within same province of client's region
Chit Chats International Standard
Nov 23: Atlantic & BC region clients
Nov 24: Quebec region clients
Nov 27: Ontario region clients
USPS International (Africa, Central and South America)
Nov 25: Atlantic region clients
Nov 27: Alberta, BC, Quebec & Ontario region clients
Key Things To Note
Cut-off dates are for estimated delivery before December 25 but many carriers have removed guarantees. Be sure to make it clear that these are estimated delivery times and delays are expected.
Use these recommended deadlines to help you prepare sales and set deadlines on your website.
Don't forget that packages first need to be received at a Chit Chats branch! Be sure to factor in transit and processing times for drop spots, Canpar courier pickups or mail-in shipments.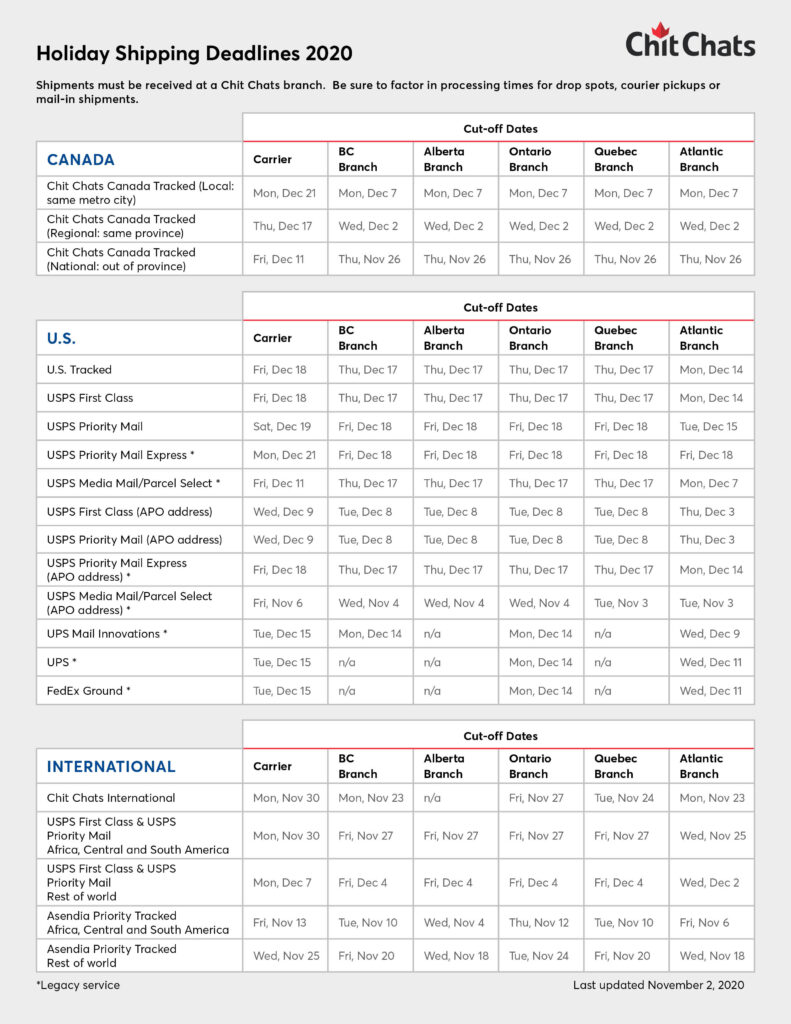 Note: Delivery times for the non-contiguous states (Alaska and Hawaii) vary and may be affected by the limited availability of transportation with USPS.
Useful references